Your Votes Helped Orlando Interactive Agency Xcellimark Make it to the Second Round of Social Madness to Support The Wounded Warrior Project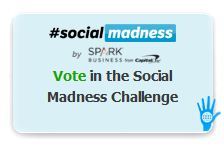 The second round of the Orlando Business Journal's Social Madness competition started today and now there are only four companies left, including
Orlando digital agency Xcellimark
, competing head-to-head for the title of winner. Social Madness is a corporate media challenge that measures the growth of a company's social presence.
"We're happy to see momentum pick up among our social media following to ensure that we remain in the contest for the second round. We've got some loyal fans!" said Mark Hughs, Xcellimark's Director of Internet Consulting.
This round will run from June 26 to July 2. After that, two companies from each size category will advance to compete for the title of Orlando's favorite brand and move on to the national competition.
The winner of the competition gets to donate $10,000 to their charity of choice. If Xcellimark wins, they will donate the money to the Wounded Warrior project, a non-profit organization dedicated to providing programs and services to severely injured service members during the time between active duty and transition to civilian life.
Currently, Xcellimark is in 4th place but with another social media push, the Orlando interactive digital agency hopes to stay in the game and advance to the next round.
"We are excited that we have made it through the first round of the Social Madness competition. However, the important thing for us is to bring awareness and hopefully support to the Wounded Warrior Project. This organization represents the true patriots of our country who have sacrificed significantly on behalf of our country. They deserve so much in terms of support from all of us. My hope is that we can raise awareness for other Americans to support this incredible organization as they work to support our wounded service men, women and their families," said Scott Lambert, President of Xcellimark.
People who have already voted can now vote again.
Click here to vote for Xcellimark and keep track of all the scores
.
About Xcellimark
Xcellimark focuses on increasing its clients' revenues and profits by improving their online image & performance, increasing online leads and closure rates, and improving branding through
custom website design
,
search marketing
,
social media
,
email marketing
and
campaign optimization
. For more information on how Xcellimark can help you improve your bottom line, contact Scott Lambert at 407-678-3062 ext. 210 or visit
www.xcellimark.com