Commemorative 2012 Olympics Designer Wallpaper Collection Brings London's Style to Home Décor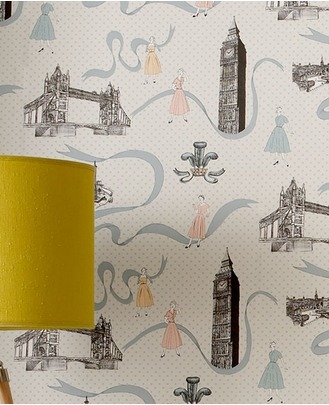 July 10, 2012 - Bring London's timeless style into your home with the new
London Summer Olympics collection
exclusively from Graham & Brown.
The elegant fashions of the 1950s are featured alongside iconic London landmarks in the new
Jubilee wallpaper
design. This new design launched to celebrate the Queen of England's Diamond Jubilee, was created to reflect London's style during the Coronation. The wallpaper was designed by surface design & textiles apprentice Sophie Minal.
Capturing the excitement of London in 2012, the
Londinium design
features an illustrative cityscape of London's best-known architectural landmarks. The Londinium collection helps turn the spotlight on London's Summer Olympics celebration, showcasing on the vibrancy and ocular magnificence of the city.
Jubilee Paint– Lovely blue paint, inspired by British cultural icons
Jubilee Wallpaper – Elegant 1950s British fashion with a modern, light twist
Coronation Wallpaper – Printed canvas with gold metallic foil crowns
Londinium Paint – A vibrant red, similar to Britain's famous double decker buses
Londinium Wallpaper – An exquisite graphic design of the eternal city
"We wanted to turn the spotlight on the capital's celebrations this year," said Mark Radford, design and marketing manager at Graham & Brown. "Londinium has been designed to reflect the architectural splendor and vibrancy of the city."
As a global leader in
designer wallpaper
and decor products, Graham & Brown is recognized as a chic and creative source of influence for modern design professionals. Through a combination of innovative techniques and cutting-edge design, Graham & Brown aspires to help design professionals think differently about interior design projects.
Please visit
www.grahambrown.com
for exquisite home décor.