Online Retailer MyBinding.com Increases CSE Revenue 65% with Shopping Comparison Sites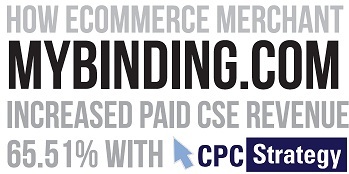 MyBinding.com, an Oregon-based top 500 Internet retailer, teamed up with management firm CPC Strategy to optimize their comparison shopping engine listings. This partnership increased revenue for the Internet retailer by over 65% while eliminating wasted spend by 27%. As a result, MyBinding (
www.MyBinding.com
) not only saved marketing dollars, they ended up generating extra revenue.
CPC Strategy (
www.CPCStrategy.com
) is a company started by former comparison shopping engine (CSE) employees to aid ecommerce shops in managing and optimizing their product listings. Their collaborative experience in working with CSEs puts them in a unique position to accurately manage client listings for the most cost effective solution. CPC Strategy has already invested time into learning how each shopping site works, making it better able to coordinate an ecommerce site with an online shopping site.
"CPC Strategy provides a great CSE management service. There's no downplaying what they do for MyBinding.com from a time saving and CSE campaign optimization perspective," said Jeff McRitchie, VP of Marketing for MyBinding.com. "Our growth since we partnered with them has been substantial and consistent."
MyBinding.com and CPC Strategy began working together in September of 2011. In a recent case study comparing two equal time periods, MyBinding.com saw their CSE revenue rise by 65.51%, driven by a 59.96% higher conversion rate. Both the number of orders and the average order value from CSEs also increased. CPC Strategy was able to reduced MyBinding's wasted spend while increasing revenue generated from comparison shopping engines.
"The service I receive from CPC Strategy is of the highest quality," said McRitchie. "I highly recommend them."
About MyBinding.com:
MyBinding.com is a division of Information Management Services, LLC. The company is based in Hillsboro, Oregon, and offers the Internet's largest selection of binding equipment, laminators, and document finishing devices and supplies. For more information, they can be reached at 1-800-944-4573. Their blog, located at
http://www.MyBindingBlog.com
, also contains information about the company and the products they sell.
Website:
http://www.MyBinding.com
Facebook:
http://www.facebook.com/MyBinding
YouTube:
http://www.YouTube.com/MyBinding
Twitter:
http://twitter.com/MyBinding
About CPCStrategy.com:
CPCStrategy.com was created by former members of shopping comparison campaigns to help online retailers manage their product listings. For more information, they can be reached at 619-297-3798. They also have an ecommerce blog at
http://www.cpcstrategy.com/blog