SportsSignup and Freihofer's Run Team Up to Support the Melodies Center at Albany Medical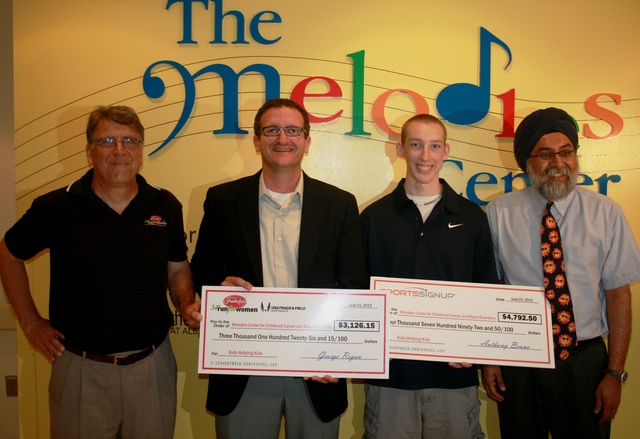 Saratoga Springs, NY - July 16, 2012 – "Kids helping kids" was the theme of the 2nd annual Freihofer's Junior 3K, and by the time the last runner crossed the finish line, SportsSignup (
http://www.sportssignup.com/
), a national leader in
online sports registration management solutions
for sports organizations, and the Freihofer's Run for Women, helped raise nearly $8,000 for kids at the Melodies Center for Childhood Cancer and Blood Disorders at Albany Medical Center, New York.
SportsSignup provides the online tools needed for sports organizations to simplify their sports management tasks.
SportsSignup CEO, Anthony Bruno, and George Regan, race director for the Freihofer's Run for Women, presented checks to Melodies Center director and pediatric oncologist Dr. Vikramjit Kanwar and Melodies Center patient James Angermeier following the race.
"Through our online registration system we help families all year long, so it's fitting to support the Melodies Center in this way," said Anthony Bruno whose daughter, Isabella, is a Melodies Center patient. "The Melodies Center does such great work for the kids of the Capital Region. We are looking forward to continuing our partnership in supporting this race and promoting a healthy lifestyle for kids in the region."
A record-setting 181 runners, ages 7 to 14, participated in the 2nd annual Freihofer's Junior 3K on Saturday, June 2 in Albany as part of the 34th annual Freihofer's Run for Women. SportsSignup and the Freihofer's Run jointly donated $10 to the Melodies Center for every runner who registered for the 3K event. In addition, Freihofer's 5K runners separately donated more than $3,000 when asked to support the Melodies Center by the simple click of a button when they registered for the race. That $3,000 was matched by SportsSignup, adding more than $6,000 to the overall total donation to the Melodies Center.
"We are very grateful to SportsSignup, the Freihofer's Run and the kids of the Capital Region who came out on a rainy Saturday to run the race," said Dr. Kanwar. "Their efforts will greatly impact the children we treat at the Melodies Center, many of whom wish they could be out there running as well."
About SportsSignup
SportsSignup, owned and operated by League Sports Services LLC, provides sports organizations and event organizers with easy-to-learn and easy-to-use integrated Software-as-a-Service (SaaS) solutions to facilitate online sports registration,
coach/volunteer background checks
and
concussion management tools
. Since 2003, the company has been dedicated to operating a secure, affordable, and hassle-free online service suite that enables administrators from thousands of soccer, football, baseball, lacrosse, basketball, track and field, and many other sports organizations to easily automate many aspects of their duties. For more information about SportsSignup, please visit
www.sportssignup.com
.