LEAR CAPITAL GIVES AWAY GOLD AND SILVER AMERICAN EAGLE COINS IN HONOR OF THE 2012 OLYMPICS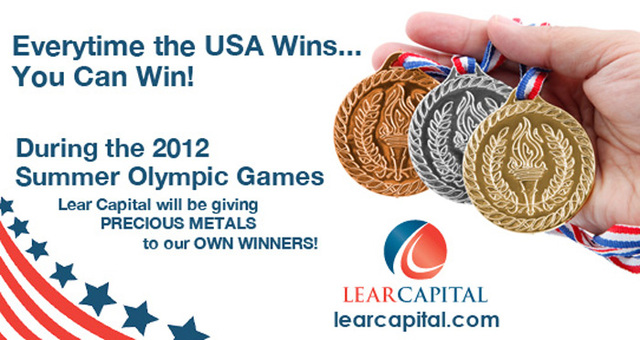 Lear Capital, a precious metals leader of Santa Monica, CA (
www.learcapital.com
), has come up with a unique way to get Americans cheering even louder for Team USA in the upcoming 2012 Summer Olympic Games. Their Lear "Medal to Metal Games" gives everyone a chance to win a precious "metal" this summer by awarding an American Eagle bullion coin every time Team USA wins GOLD or SILVER in Olympic competition.
"Every time the USA wins, You can win!" It's a resounding phrase that Lear Capital wants you to remember this summer! The precious metals leader based in Santa Monica, California has come up with the Lear "Medal to Metal" games in honor of America's 2012 Olympic Team, and they are getting quite a bit of notice. During this year's Olympic Games, Lear will give away a 1/10 oz. GOLD American Eagle Coin or a 1 oz. SILVER American Eagle Coin every time Team USA wins a GOLD or SILVER medal throughout July and August. These are official bullion coins of the United States and are legal tender.
Anyone can enter Lear's "Medal to Metal" games by registering at Lear Capital's website (
www.learcapital.com
). Winning names will be selected at random from online registrations and posted on Lear's online "Medal to Metal" podium along with corresponding Team USA Olympic medal winners. Lear Capital will also provide a real-time 2012 Olympic Medal Tracker on their website that tallies total medals won by country live from London.
If you're the type that never wins anything, then this contest is also for you! Through their exclusive "ReferNow" program, registrants can also log multiple entries into the competition by referring others. Each referral adds an additional entry to increase the odds of winning GOLD and/or SILVER!
"This promotion is a great way to not only ignite more enthusiasm for Team USA, but to honor the timeless tradition of superior athletic performance," says Scott Carter CEO of Lear Capital. "In the 116 year tradition of the modern games, countries have awarded Gold and Silver to the best in amateur sports. This is our way of saluting the winners and giving everyone the chance to play along."
Lear Capital is one of the most highly endorsed gold firms in the precious metals industry and boasts an A+ rating from the Better Business Bureau. They are considered the gold-standard for investors looking to add precious metals to their portfolio. Lear offers bullion (in the form of coins, bars and ingots), gold or silver-backed IRA's, and numismatic coins for investment, diversification and retirement protection. Their commission free "Buy Back" program and "Lear Lock" Price Assurance plan add a level of security on all of their gold and silver transactions.
The "Medal to Metal" Games begin today and end at the close of the Summer Olympic Games at 11:59 PM PST on August 12, 2012. To register for Lear Capital's "Medal to Metal Games," their limited time Gold and Silver Giveaway, go to
www.learcapital.com
Email Outsource Marketing Group, Inc.