Leisure Quest International Opens Regional Headquarters In Tianjin, China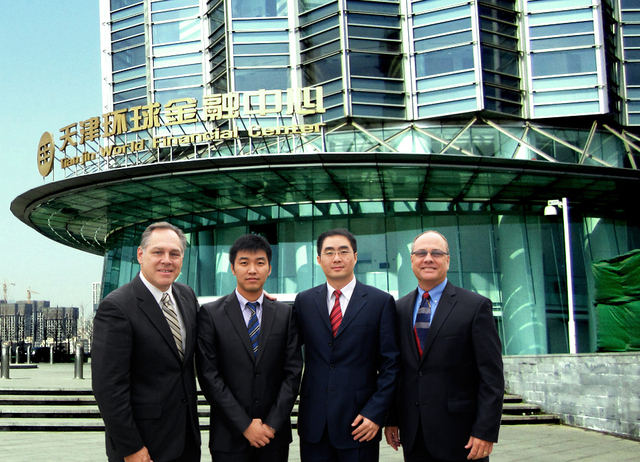 Leisure Quest International
, LLC one of the world's leading theme park, attraction and tourism development consultancies has established its China Headquarters in Tianjin, China. Through its wholly-owned Leisure Quest International Tianjin, LLC company (a Chinese wholly owned company), the Company will continue its decade long commitment to the World's largest tourism, entertainment and attractions market.
The new headquarters is located in the iconic 79 story Tianjin World Financial Center Tower, Tianjn's newest landmark. The Company will continue to maintain its Beijing marketing and coordination office.
The Company's decision to establish its China headquarters in Tianjin was an easy decision says Mark A. Driscoll, the Company's Founder and President. "Our first project was in Tianjin when we engineered the joint venture between Hollywood's Paramount Studios and Tianjin Universal Television & Film Company. We later were appointed Tianjin's Tourism Advisor and have continued to play a meaningful role in many of Tianjin's tourism and entertainment developments. We belong here." Michael Xue, LQI China's General Manager added "It is fitting and appropriate that our China headquarters is located in Tianjin. The Tianjin headquarters together with our marketing and coordination office in Beijing will greatly improve our ability to deliver our world-class design, planning and operations services to our clients throughout China for years to come".
About Leisure Quest International, LLC
Leisure Quest International is one of the world's leading consultants for leisure, entertainment and tourism developments. The company is headquartered at Universal Studios, Ca with regional headquarters located in Tianjin, China and a marketing and coordination office in Beijing, China. Leisure Quest International successfully developed tourism submarines in Hawaii, planned numerous projects and attractions in Dubai, UAE including work on such icons as Palm Island, The World Islands, and Madinat Jumeirah, and is an industry leader in China. The Company is known for its unique approach to designing, planning and operating profitable and sustainable theme parks, resorts, tourist attractions and themed destinations worldwide.
Email Leisure Quest International, LLC