Special Event Rentals Creates Dream Outdoor Tent Weddings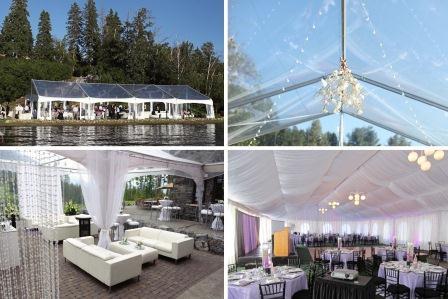 Edmonton, AB - During this busy summer wedding season in Edmonton,
Special Event Rentals
(SER) offers guidance to couples hoping to capitalize on warm weather and have their wedding during the summer. With the unpredictability of Alberta's summer climate leaving many brides uneasy, especially the ones dreaming of an outdoor wedding, tents are an easy solution to keep bad weather at bay while keeping a wedding ceremony or reception outdoors.
Opting for a
tent rental
gives the couple complete creative freedom in their wedding planning. From timelines and capacities to décor and layout options, wedding tents can serve as a blank canvas for the couple to create their dream celebration. Dance the night away under the starry sky with one of SER's new clear top tents or make a dramatic impact with a tent ceiling treatment. Rent a frame tent for an intimate atmosphere, or a clear span or pole tents to create a lounge area on one end with dining on the opposite end!
"There is something extra special about an outdoor tent wedding, something ideal. Brides that have tented weddings seem to be the happiest with the overall feel of the celebration and it's likely because they have selected exactly how they want everything to be rather than working in a space where most elements are already chosen for them," says Emma Fortier, Event Manager at Special Event Rentals.
Special Event Rentals has a large selection of tent rental styles and sizes, ranging from 10'X10' up to 60'X280' which allows SER to provide couples with the perfect tent for their wedding.
Couples that are not sure what size of tent they need for their wedding should peek at SER's
tent rental guide
for an idea of space requirements prior to choosing a wedding tent size or call one of Special Event Rentals knowledgeable agents at (780) 435-2211 to help you select a suitable tent for your wedding. Couples should be prepared to answer questions such as the size of space to work with, how many guests will be attending, whether round or banquet tables will be used, and if space is required for a
dance floor
, bar and buffet tables?
About Special Event Rentals:
Specializing in event, tent, wedding rentals, and more, Special Event Rentals is Edmonton's premiere event and tent rental company. Spending over a million dollars annually on new rental equipment to meet customer and client needs, Special Event Rentals has become western Canada's largest event and party rental company. With portable bars and bar equipment, stanchions and red carpets, catering equipment, linens, lighting, tent rentals, table rentals and chair rentals, wedding chair covers and wedding décor, dance floors, barbeque rentals, or more Special Event Rentals carries everything needed to complete a perfect tent wedding, and 25 years of knowledge to make sure it is a success!
Email Special Event Rentals