Every time Team USA Wins, You can Win in Lear Capital's Medal to Metal Coin Giveaway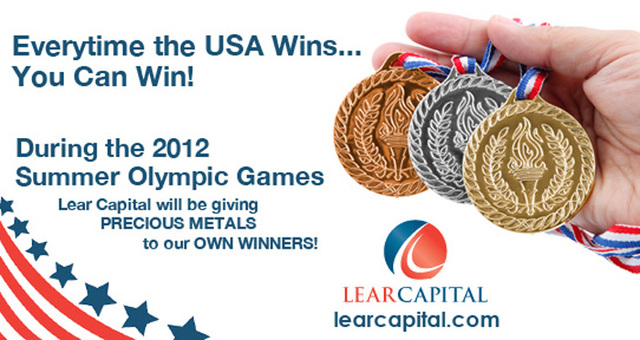 In honor of America's 2012 Olympic Team, Lear Capital (
www.learcapital.com
) is giving away precious metals! During the course of the 2012 Olympic Games, every time Team USA wins a GOLD or SILVER Medal, Lear's web site visitors will have a chance to win a 1/10 oz. GOLD American Eagle Coin or a 1 oz. SILVER American Eagle Coin. These are official bullion coins of the United States and are legal tender.
Lear Capital's Medal to Metal promotion has been designed to rally support for Team USA and to honor the timeless tradition of superior athletic performance. It costs nothing to play and winning names will be selected at random from online registrations and posted on Lear's "Medal to Metal" podium every other day! Lear will also post Team USA Olympic medal winners through their real-time, Olympic Medal Tracker that tallies total medals won by country live from London.
Lear Capital is one of the most highly endorsed gold firms in the precious metals industry and boasts an A+ rating from the Better Business Bureau. They are considered the gold-standard for investors looking to add precious metals to their portfolio. Lear offers bullion (in the form of coins, bars and ingots), gold or silver-backed IRA's, and numismatic coins for investment, diversification and retirement protection. Their commission free "Buy Back" program and "Lear Lock" Price Assurance plan add a level of security on all of their gold and silver transactions.
The "Medal to Metal" Games have already begun and will continue through the close of the Summer Olympic Games at 11:59 PM PST on August 12, 2012. To register for Lear Capital's Gold and Silver Medal to Metal Games, go to
www.learcapital.com
Contact Information
Trish Mahon
Outsource Marketing Group, Inc.
818-884-4690
Contact Us
Email Outsource Marketing Group, Inc.