Lear Capital Announces The First Winners Of Gold And Silver Bullion In Its 2012 Medal To Metal Games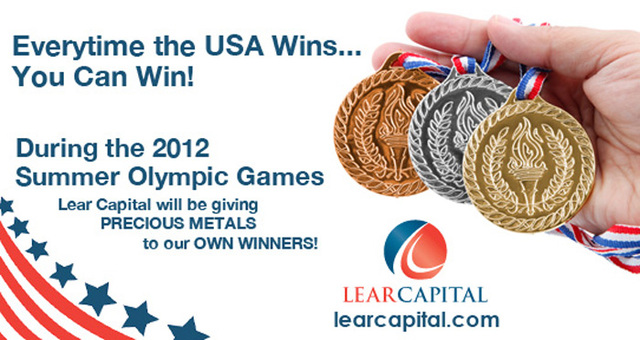 Every time Team USA wins, you can win! And on Saturday and Sunday Team USA won… grabbing the Gold in the Men's Individual Swimming Medley, Women's Skeet Shooting, and the Women's 100m Butterfly Swim and Silver in the Women's 400m Individual Swimming Medley, Synchronized Springboard Diving, the Women's 400m Freestyle Swim, Men's Archery and the Men's 4 x 100 Freestyle Relay.
In addition, the first 8 winners of Lear Capital's Medal to Metal Games were announced and each takes home an American Eagle Gold or Silver coin. A total of eight winning registrants were selected at random on Lear's web site this morning (
www.learcapital.com
) and their names were posted on their Medal to Metal podium. Three of the lucky winners will receive a 1/10 oz. GOLD American Eagle Coin and five will receive or a 1 oz. SILVER American Eagle Coin, both legal tender and official bullion coins of the United States.
There is still time to register for the Medal to Metal Games. Winning names will be selected at random every 48 hours for the duration of Olympic competition and posted alongside Team USA's winning athletes, their medal designation, and their event. Lear Capital is also hosting a real-time 2012 Olympic Medal Tracker that tallies total medals won by country. The USA is currently tied with China for the most medals although China leads America in total Gold medals.
Remaining Olympic competition includes traditional American strongholds of Women's Gymnastics, Men's Basketball, Women's Soccer and Track & Field … and Lear's web site will have all the results!
Lear Capital is considered the gold-standard for investors looking to add precious metals to their investment portfolio. Lear offers bullion (in the form of coins, bars and ingots), gold or silver-backed IRA's, and numismatic coins for investment, diversification and retirement protection. American Eagle bullion coins are authorized by Congress and provide a convenient way to add investment gold or silver to any portfolio. Since their launch in 1986, American Eagles have become a leading bullion coin investment product.
Lear Capital's "Medal to Metal" Games end at the close of the Summer Olympic Games at 11:59 PM PST on August 12, 2012. To register for Lear Capital's Gold and Silver Giveaway, go to
www.learcapital.com
Email Outsource Marketing Group, Inc.