Modern Wallpaper Retailer Graham & Brown Launch New AphroChic Collection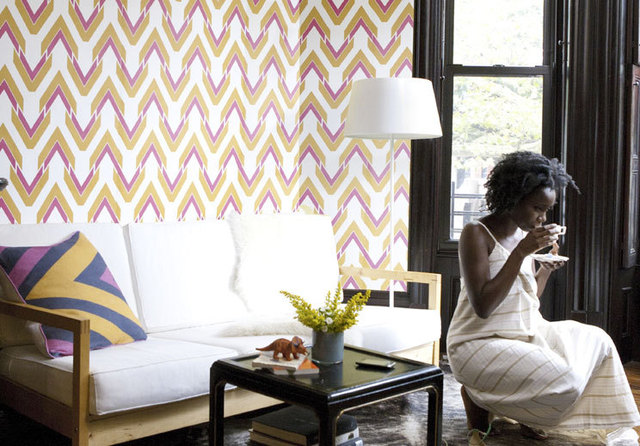 August 2, 2012 -The launch of Graham & Brown's new AphroChic
modern wallpaper
and home décor collection brings universal design to the stylish home, and is available exclusively through the Graham & Brown online store.
Inspired by ethnic heritage and culture, the
AphroChic collection
embodies a vision of a cutting-edge design techniques joining traditional and contemporary style for the modern home. The AphroChic collection was created by famed interior designer Jeanine Hays, and has been featured in The New York Times, Elle Décor, Lucky Magazine and numerous interior design blogs.
The new AphroChic wallpaper and home décor collection is a soulfully stylish blend of 4 wallpaper designs. The AphroChic wallpaper collection features electrifying geometric patterns and lustrous color combinations that bring global style into your home.
Haze: Mimosa -A rousing Ikat pattern with vibrant yellows
Reflection: Black & White -Playful image trickery is a treat for your eyes and walls
The Beat: Cerulean -Traditional Kuba cloth designs modernized with a calming blue
The Vibe: Saffron & Pink -The perfect accent wallpaper for any room
Also included in the AphroChic collection are plush accent pillows, tabletop placements and table-runners.
"We are thrilled to launch the new Jeanine Hays collection," said Mark Radford, design and marketing director at Graham & Brown. "Her unique approach to interior design gives our customers an opportunity to infuse global style with individual tastes."
The new AphroChic collection is modern wallpaper and home décor developed for the contemporary home.
As a global leader in
designer wallpaper
and decor products, Graham & Brown is recognized as a chic and creative source of influence for modern design professionals. Through a combination of innovative techniques and cutting-edge design, Graham & Brown aspires to help design professionals think differently about interior design projects.
Please visit
www.grahambrown.com
for more information on their wallpaper and home décor.