Hawaii Life Real Estate Brokers & Dwell Magazine to Present Conference on Understanding & Connecting with Affluent Clients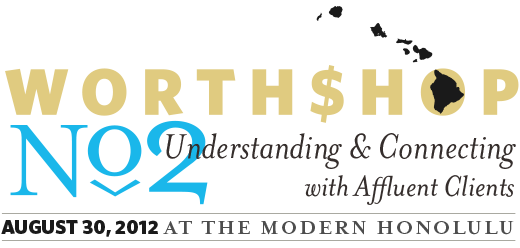 Following the success of their inaugural
event at the Four Seasons Hualalai
, Hawaii Life is hosting Worthshop #2 this August 30th at The Modern Honolulu in Waikiki. This installment will focus on establishing successful relationships with the affluent client.
"We're motivated to make Worthshop #2 an even bigger success than our first event," says Matt Beall, Principal Broker of Hawaii Life Real Estate Brokers. "Most everyone is interested in the affluent market, but few are able to develop effective business relationships with this caliber of clientele. The Oahu Worthshop will help professionals in various industries find and establish these relationships."
Winston Welborn, Hawaii Life's Creative Director, adds, "While the event is designed for real estate brokers and agents, the public is welcome, and Hawaii Life is expecting people from related industries such as finance, design, architecture, etc."
The keynote speaker at the Honolulu event is Michela O'Connor Abrams, President and CEO of
Dwell Media Inc
. Her talk, "The New Face Of Affluence" will provide an in-depth look at how to successfully interact with affluent clientele.
The event includes networking opportunities at an after party, also held at The Modern Hotel. More speakers and sponsors will be announced as the event nears. For more information and to register, visit the Worthshop website at
http://worthshop.hawaiilife.com
Email Hawaii Life Real Estate Brokers