Rick's Custom Fencing & Decking Builds Entertainment Deck for Portland's Street of Dreams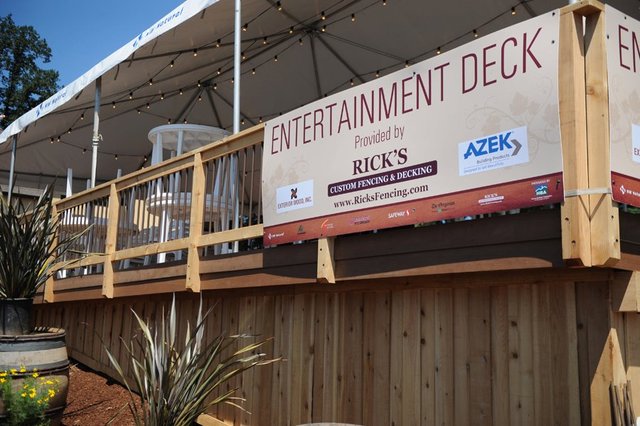 West Linn, OR – Northwest decking contractor Rick's Custom Fencing & Decking has constructed an 800-square-foot outdoor entertainment deck for the NW Natural Street of Dreams, which runs now through Aug. 26, 2012, in West Linn, Ore.
Built with Azek Deck PVC decking, which is engineered to limit the shortfalls of wood and composite decking, the covered party space includes a sound system as well as catering service and will be available to rent for private parties during the Street of Dreams. As a sponsor of Portland's annual tour of luxury homes, Rick's Custom Fencing & Decking also constructed a smaller deck for the event's ticket booth.
This year's NW Natural Street of Dreams showcases seven new custom-designed homes in the $900,000 to $1.1 million price range. The tour, which draws 60,000 visitors annually, is open daily from 11 a.m. to 8 p.m. at The Vineyard in West Linn. Tickets cost $15 for adults; kids 10 and under receive free admission.
"The homes they built this year are breathtaking, and we wanted to create an outdoor entertainment space that is equally inspiring," said Rick Stanley, owner of Rick's Custom Fencing & Decking. "We chose Azek Deck PVC decking materials because they represent the latest advances in durable, low-maintenance decking."
Benefits of Azek Deck include:
Stain resistant
Scratch resistant
Split resistant
Mold and mildew resistant
Durable and long lasting
Impervious to moisture and insects
Limited lifetime warranty
To learn more about Rick's Custom Fencing & Decking, visit
www.RicksFencing.com.
About Rick's Custom Fencing & Decking
Since 1980, Rick's Custom Fencing & Decking has become one of the largest fencing and decking retailers in the Pacific Northwest. With locations in Gresham, Hillsboro, Vancouver, Salem and the Tri-Cities, the company has built a reputation for providing high-quality materials and top-notch construction expertise. Rick's specializes in custom deck and fence designs, materials and installations for both residential and commercial properties.
Email Rick's Custom Fencing & Decking