Randolph Engineering Sunglasses at Eyegoodies.com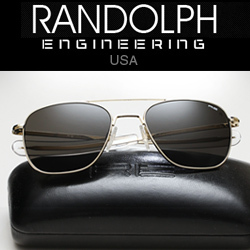 Randolph Engineering Sunglasses
are now available at Eyegoodies.com.
Proudly manufactured in America, Randolph Massachusetts to be precise, for which the brand was named: RANDOLPH ENGINEERING. Serving the military and the style conscious alike with the same exacting precision, they are a clear testament that some of the best things are still made right here in the good ol' U.S. of A.
Standard issue for the U.S Military for over 3 decades, Randolph Engineering sunglasses are the real McCoy. With over 200 mostly by hand production steps, one pair of Randolph sunglasses actually takes more than two weeks to make. Frames are made using the finest raw materials and alloys to be found in the world and feature mineral glass lenses providing superb optics.
Randolph Engineering takes great pride in its deep rooted American and military heritage. Where other still in business brands have since left or outsourced manufacturing overseas to cut costs, Randolph remains in the USA, making frames as they have always done using a highly skilled and dedicated American workforce. Tried and true manufacturing methods are maintained using the machinery and tooling created by its founders.
One of our favorites from the collection would have to be the Randolph Engineering Aviator sunglasses - an iconic and flagship frame. Don't let its simple name fool you, these sunglasses set the standard for world-class quality and style. Built for the U.S. Military, the Randolph Aviator surpassed their rigid specifications and are the epitome of serious equipment. From their unique bayonet temples that are designed to comfortably contour the wearer's head and also fit neatly under headgear, to the lifetime warranted solder joints, to their glass lenses providing superb optics, you can always rely on the Aviator to perform. It is a unique timeless design, with equals parts style to substance - form and function at its best. Featured in magazines such as GQ and Esquire, and worn by the likes of Johnny Depp (on and off screen). Then further adding to their cult status, character Don Draper (Jon Hamm) sported the iconic shades on the hit show Mad Men.
Strong enough for a Naval Aviator but perfect for a civilian. Randolph Engineering sunglasses are now available at eyegoodies.com.
Shop
Randolph Engineering Sunglasses
Read more about Randolph Engineering
http://www.eyegoodies.com/blog/randolph-engineering-sunglasses