Chelsea State Bank Partners with Local Schools to Promote Financial Literacy Education with Latest Web-based Technology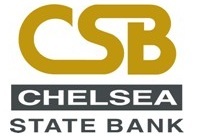 When Chelsea and Dexter schools open this fall, high school students will benefit from a new financial literacy education curriculum thanks to an initiative spearheaded by
Chelsea State Bank
. The EverFiTM Financial Literacy Platform is a web-based program using the latest in new media technologies – video, animations, 3-D gaming, avatars, and social networking – to bring complex financial concepts to life for today's digital generation.
According to Chelsea State Bank President and CEO John Mann the EverFi™ platform speaks to the spirit of community banking to serve local families and businesses. "It's important for us to support our communities and this is a perfect way to do that. Because we are the local community bank we feel honored to give back to the communities that so generously support us." Chelsea State Bank has aligned with EverFi, Inc. to bring the interactive financial management program to these high school students at no cost to the schools.
"Financial literacy is a skill that all young people need to succeed," Mann added. "When these students enter the real world, whether it is college or the work force, responsibly managing their finances is a key to their ultimate success in life," he said.
Mann emphasized that Chelsea State Bank and community banks in general have an important responsibility and role to promote financial education in schools. "Spending is starting earlier in life and many young people have little understanding of finance and economics," he said. "They are spending and borrowing without knowing the consequences – in some cases following the bad example of their parents. It's important to not let credit card spending get out of control."
He also noted that it is no secret that financial literacy in our society needs improvement. "Financial literacy needs to be front and center in our schools and this is a great way to do it, using the technology and tools that this generation of consumers has been using since kindergarten."
Mann emphasized reaching high school students is also critical since many will soon be making serious credit and loan decisions as they make their college choices. The 10-unit course offers 6 hours of programming aimed at teaching, assessing and certifying students in a variety of financial topics including credit scores, insurance, credit cards, student loans, mortgages, taxes, stocks, savings, 401(k)s and other critical concepts that map to national financial literacy standards. The platform uniquely tracks the progress and score of every student and provides students who successfully complete the course with a Certification in Financial Literacy, a valuable mark of distinction on college applications and resumes.
Mann noted the opportunities to go into debt at an earlier age are staggering. One report by the Federal Reserve just prior to the financial crisis four years ago showed that 53,000 student credit card accounts were opened in 2008, and by 2009 there were 2 million student credit cards in circulation. More students are paying tuition with credit cards every year in addition to charging schoolbooks and other expenses. "These decisions can have huge implications and when you don't have a foundation to make an informed decision it is very easy to get into a financial hole at a very young age," he added
Student loans are costlier and now account for more debt than credit cards. "Last year we saw student loans pass credit card debt for the first time in the U.S. While the costs of education have grown, incomes and government aid aren't keeping up. Students are taking on more debt."
About Chelsea State Bank
Chelsea State Bank is a
full service financial institution
with offices in Chelsea and Dexter. The Bank was formed over 100 years ago by local business leaders to provide timely financial solutions to individuals, families and businesses in the community. This tradition of community service continues today. For more information, please visit
www.csbonline.com
or call the bank at 734.475.1355.
About EverFi
EverFi is the leading education technology platform company to teach, assess, and certify students in critical skills including Financial Literacy, Student Loan Management, Digital Literacy, and Health and Wellness, and additional product areas to be announced in early 2012. The company is already powering a national movement in 50 states that enables students to learn using the latest technology, including rich media, gaming, high-definition video, and simulations. EverFi teams with major corporations and foundations to provide the programs at no cost to schools. To date, more than 3 million students have completed EverFi learning platforms. Learn more at
www.everfi.com
.