Cricket Discovers 'The Next' Big Thing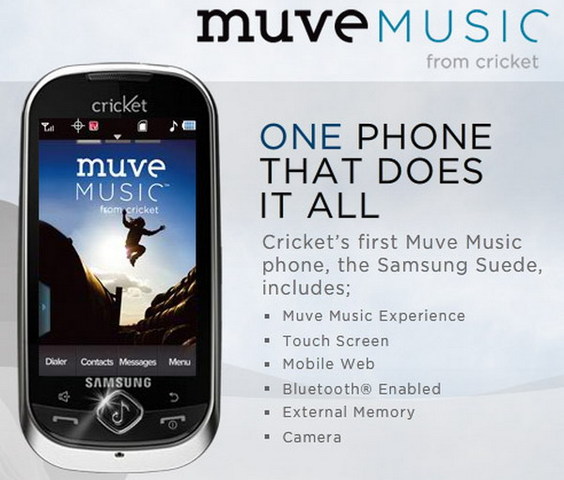 Cricket Wireless, a leader in pre-paid
cell phone plans
that has been heavily promoting its Muve Music offering (which grants
unlimited music downloads
at a fixed monthly rate) as a major differentiating point among carriers, is set to launch its first branded entertainment venture with the latest music-based reality TV program "The Next."
"We look at what our customers want to do with their phone and their love of music has always been at the top," Tyler Wallis, Cricket's senior vice president of product marketing, tells Marketing Daily. "Music is universally a part of most people's lives, and this is a way to build the value proposition in the space."
On the show, which will make its debut later this week, contestants and celebrity mentors (Gloria Estefan, John Rich, Joe Jonas and Nelly) will use the service to download songs for performance. In addition, all of the contestant's studio-recorded songs for the show will be available for download via Muve immediately following each airing.
"For a lot of folks to really understand the Muve Music application, it helps to see it in in action," Wallis says. "Until they see people interacting with a catalog and they realize that they're not using a credit card or an account to get the music, that's where they see the product attributes."
Despite having a number of partnership options for a music-based program, Wallis says the partnership with the CW dovetails nicely with the brand's youth-oriented target market and its diversity.
"The diversity here was attractive as well as the product integration opportunities [more so] than we saw with other shows," Wallis says. "This is a show that's youth oriented, our product is youth oriented as well. There's a wide variety of music styles included and if you look at a panel of judges, it matches well with the diversity of our target base."
Additionally, the branded entertainment sponsorship gives the brand a way to show off its service at a time when more people seem to be considering the no-contract space as the phones get better and the options get more competitive. "We compete against everyone in the wireless space," Wallis says. "The one constant you look at is that nobody else has an unlimited music download service built into their plans. Whether they're no-contract providers or contract providers, nobody has that."
Email Cricket Communications