New Website Offers Innovative Products For People With Disabilities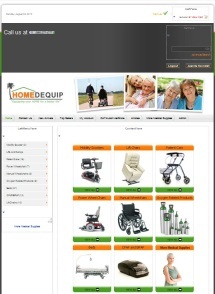 Auburndale, Florida - Homedequip.com launches a new e-commerce website offering innovative products for people with disabilities. Homedequip, pronounced 'home-med-equip' has taken its team of health care professionals online to meet the needs of the disabled community. The company is devoted to helping those with disabilities lead a more active and fulfilling life and the aim of the new website is to make this easier and more convenient for those in need.
The website,
www.homedequip.com
provides a wide range of home medical equipment and supplies to make sure each and every patient experiences the very best in customer service by a company that actually cares. The site offers a full range of resourceful products that are specially designed to make the lives of those with disabilities easier.
Homedequip.com is also supported by an informational site
www.mobilityspecialists.net
where patients and family members can get all the information they need about the various medical equipment and their functionalities. This site also offers details that will help with reimbursement formalities for the purchased equipment. Instead of fretting over which equipment is best suited for their needs or struggling with how to fill out forms for the reimbursements, those who are looking for help can access the website and get all of the help that they need from the caring and compassionate staff at this exceptional company.
Butch Vanderpool, president of Homedequip said the new site would be instrumental in meeting the needs of people that Mobility Specialists wouldn't normally to be able to reach. The company lays strong focus on customer service and help to those who are looking for someone who will not only provide them with the equipment that they need, but will also show caring compassion. "It is our extension to a world that needs assistance by knowledgeable people who actually care," Vanderpool said.
Homedequip.com is an Auburndale, Fla. based corporation. The company sells a wide array of home medical equipment such as wheelchairs, power wheelchairs, scooters, homecare beds and a large selection of other home medical equipment and supplies. Those who are having a difficult time getting around can easily go online and take a look at the scooters and motorized wheelchairs that will allow them the freedom to go out and enjoy the world around them.
Homedequip's President Butch Vanderpool handpicked his team of medical equipment specialists to provide functional expertise and excellent customer service to anybody who needs it. Supported by their knowledgeable and caring staff that is ready to help all of those who look for help through the site, Homedequip prides itself on offering independence and freedom to those with disabilities.