VAC-U-MAX Pneumatic Conveyor Provides Competitive Edge for New Bio Based Detergent Expansion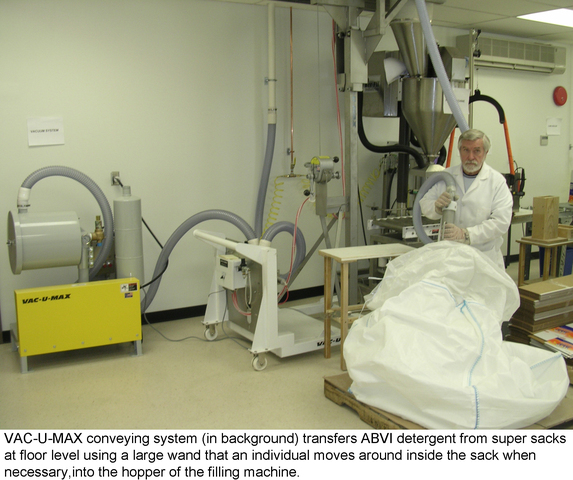 When the US government decided to switch to a bio based laundry detergent for military and other government entities, the Association for the Blind and Visually Impaired (ABVI) had the potential to expand its manufacturing and fulfillment division by devising a system to produce the detergent in an efficient and economical manner, and chossing the right
pneumatic conveyor
manufacturer was integral.
"This was a totally new process for us," says Leon France, Quality Manager of ABVI's manufacturing and fulfillment division that employs approximately 60 individuals who are blind or visually impaired.
After successfully developing a detergent with a supplier manufacturer, and deciding upon an auger filling station to dispense the detergent into boxes containing two 13-pound cartons, he still needed a system that would deliver the detergent to the auger filler from 2000-pound super sacks, and "Per-Fil recommended we contact VAC-U-MAX for a solution," says France.
VAC-U-MAX, early pioneer of vacuum technology best known for handling free and non-free-flowing powders, specializes in design and manufacture of pneumatic conveyor systems and support equipment for conveying, weighing and batching of dry materials. The primary technology for conveying is vacuum, but positive pressure vacuum conveying systems as well as mechanical conveyors, like
flexible screw conveyors
, are used as applications dictate.
France says that when he contacted the pneumatic conveyor manufacturer and explained what ABVI was trying to accomplish and the nature of the product VAC-U-MAX requested material samples to ensure particle size distribution didn't change upon vacuuming from super sacks into the hopper.
VAC-U-MAX performs testing at no charge to potential customers in its fully functional test and demonstration facility equipped with a multitude of equipment configurations and vacuum conveying tests to simulate actual conditions at customer's sites.
France says, "we decided upon this system because the manufacturer invited us to their facility to demonstrate their equipment with our product, offered us a couple different options based upon our product needs, and we were able to make a decision of which way to go."
pneumatic conveyor
systems are flexible, and when working with an expert that has intimate knowledge of material characteristics and manufacturing processes, users can have semi-custom pneumatic conveying systems using standard components that are adapted to fit manufacturing needs.
Because the controls from the two systems needed to be integrated to signal the vacuum system to convey more detergent when the auger filler hopper emptied, the conveyor manufacturer set up its system at Per-Fil's facility and demonstrated to ABVI representatives that the two systems were fully integrated and operational.
"We really appreciate the fact that VAC-U-MAX was willing to send someone to the auger filler manufacturer to guarantee their equipment was able to interface properly with the other equipment," says France.
The production line has a demonstrated daily capacity of 200, two-carton boxes and is staffed with three operators.
"The system runs very clean," says France. "Overall we are impressed with the system and the expertise that VAC-U-MAX provided in the process."
For more information about handling difficult or adhesive materials, a VAC-U-MAX
pneumatic conveyor
system or industrial vacuum cleaning solutions, write to them at 69 William Street, Belleville, NJ 07109; call 1-800-VAC-U-MAX (800) 822-8629 or (973) 759-4600; e-mail
info@vac-u-max.com
; or visit their website
www.vac-u-max.com
.