U.S. Patent for Eliminating Vampire Energy Loss Issued to Austin Startup, Vampire Labs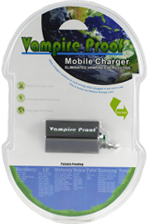 AUSTIN, TX
- Vampire Labs, LLC, an innovative company developing technologies aimed at eliminating wasted energy, announced today that it has been awarded United States Patent No. 8,232,775 for its novel approach to eliminating vampire energy loss (also known as vampire power) in consumer electronics.
The patent, which falls under the company's Vampire Proof™ technology portfolio, addresses the nearly 500 billion energy-wasting electronic devices sold worldwide each year. It eliminates the energy that is continuously consumed and wasted by mobile devices when they are plugged into the wall and not in use – this is known as vampire energy loss.
According to the US Department of Energy, vampire energy loss is responsible for more than 20% of all residential energy. The average US home has 20-50 vampire devices that suck power continuously throughout the day.
"When we started presenting our solution to eliminate vampire energy loss to some of the largest global retailers and manufacturers, getting meetings was relatively easy, particularly because reducing wasted energy at minimal cost aligns with many corporate and regulatory initiatives," said Hugh Thompson, Marketing VP of Vampire Labs. "Our greatest challenge was getting their buy-in as a new company."
This technology is lauded as having a potentially large-scale effect due to its low-cost implementation and usability. As home electronics and mobile products become increasingly available to a growing global population, the harmful impact of vampire energy loss is only going to become worse. The technology is available, and now is the time to start putting an emphasis on stemming the flow of this preventable form of wasted energy.
About Vampire Labs
Vampire Labs was founded in Austin, TX, by a handful of eclectic, pioneering talents focused on ending vampire energy loss with innovations designed to save energy on a massive scale at minimal cost. To date, Vampire Labs has a dozen issued or pending patents for technology that eliminates vampire energy loss in mobile device battery chargers, external power supplies, and microprocessor cores. Parties interested in Vampire Proof™ technology should visit
www.vampirelabs.com
to learn more.
Investor or Press Relations Contact:
Hugh Thompson
Hugh@vampirelabs.com
Licensing Inquiries Contact:
Jaclyn@vampirelabs.com