Special Event Rentals Warms up for Fall Weddings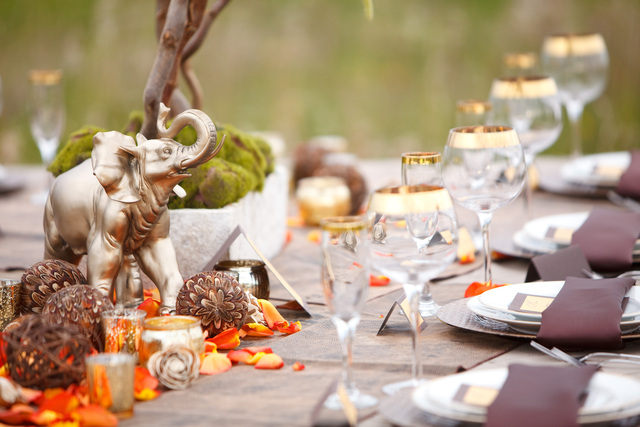 Edmonton, AB –
Special Event Rentals
is wrapping up their busy summer wedding rental season and getting ready for fall, with the subtle changing leaves, cooler nights and an increasing need to feel warm and cozy. Fall also brings a warm colour palette from which Special Event Rentals and brides can take inspiration for fall wedding decorations and themes.
"Autumn is the best time of year to embrace warm tones for your wedding décor to create a breathtaking atmosphere. Think candlelight and harvest ambience. A fall wedding with bold oranges and reds softened by earthy tones of gold and brown create the perfect setting to welcome your guests with feelings of comfort and home." - Emma Fortier, Event Manager at Special Event Rentals.
The leaves turning different shades of orange, red and brown along with cool crisp evenings, autumn provides a warm colour palette for fall weddings that allows rich shades of blue or green to pop when added to the wedding reception palette. Incorporate the darkening sky into any fall wedding décor by pairing a dark blue such as indigo or navy with amber glassware, candlelight and a Manzanita branch centrepiece for an enchanting atmosphere.
Green shades may be disappearing from the trees as the season changes but that doesn't mean a rich shade of green like olivino or sage can't be incorporated into a fall wedding décor. Create a warm and inviting atmosphere with olivino green linen, bronze candelabras, copper accents and tuscan café chairs. Weddings guests will be impressed and mesmerized by the warmth created for the reception venue.
Bring the colour of fall leaves into a wedding reception décor with Special Event Rental's sand or cocoa goddess overlay, which will provide a soft leaf pattern on top of the chosen wedding linen. With the cooler weather be sure to keep guests toasty with a hot chocolate or coffee wedding favour.
For more fall wedding décor ideas be sure to visit Special Event Rentals' booths at Bridal Fantasy on September 23rd at the Expo Centre and at the Bridal Expo on September 30th at the Shaw Conference Centre. Tickets are now on sale so hurry and purchase tickets before they are sold out!
About Special Event Rentals:
Specializing in event, tent, wedding rentals, and more, Special Event Rentals is Edmonton's premiere event and tent rental company. Spending over a million dollars annually on new rental equipment to meet customer and client needs, Special Event Rentals has become western Canada's largest event and party rental company. With portable bars and bar equipment, catering equipment, linens, tent rentals, table rentals and chair rentals, wedding chair covers and wedding décor, dance floors, or more Special Event Rentals carries everything needed to complete the perfect fall wedding, and 25 years of knowledge to make sure it is a success!
Email Special Event Rentals