HTC One Arrives at Cricket Communications Inc.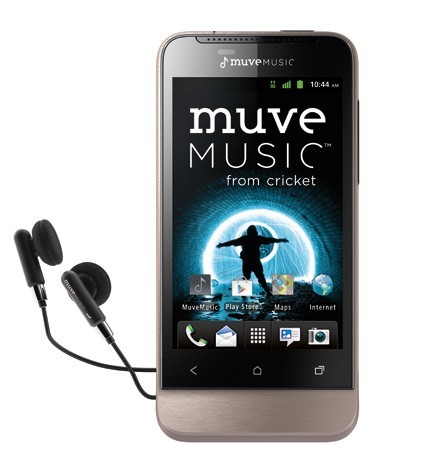 BELLEVUE, Wash. and SAN DIEGO — HTC, a global leader in mobile innovation and design, and Cricket Communications Inc., a leading provider of
no contract cell phones
, today announced the availability of HTC One™ V, part of the critically acclaimed HTC One series of smartphones. The introduction of the HTC One V marks the first time an HTC device is available at Cricket. The HTC One V will be available at Cricket company-owned stores, dealers and
www.mycricket.com
for $269.99 (SRP) starting Sept. 2.
"Delivering the
HTC One V
to Cricket customers marks another milestone in the HTC One series," said Mike Woodward, president of North America, HTC Corporation. "The amazing camera and authentic sound of the HTC One V are combined with a top-end design that gives the smartphone a premium mobile experience with broad appeal."
"Cricket looks forward to a strong relationship with HTC. The HTC One V serves as a great first device in a soon-to-grow portfolio of premium devices at great value," said Matt Stoiber, senior vice president of devices for Cricket. "At Cricket, we're excited to provide our customers with a great value in a high-quality smartphone such as the HTC One V that offers award-winning design, top imaging and audio solutions."
The HTC One V is Cricket's first device with Android™ 4.0 Ice Cream Sandwich; it is a premium smartphone that offers high-quality features to Cricket customers at a great value. The device comes with a 3.7-inch WVGA touch-screen, Qualcomm® Snapdragon™ S3 1Ghz processor, Wi-Fi capability, Beats Audio™ and 3G Real Web Browsing. With the latest enhancements to the Android 4.0 (ICS) OS such as customizable home screen folders, improved text input, and advanced people and profile management, customers will enjoy an improved experience overall. As a standout among Cricket smartphone device options, the device is destined to be a favorite for those who thrive on hearing authentic sound and sharing top quality images and video to their social networks.
Authentic Sound
Beats Audio allows listeners of the HTC One V to experience authentic sound as the artist intended. Whether listening to music, watching a movie or playing a game, you can now experience rich and premium sound capabilities on the HTC One V.
Muve Music Integration
The integration of Beats Audio in the HTC One V is the perfect complement to Cricket's Muve Music service. Cricket's innovative Muve Music service is available on the HTC One V when a Cricket customer signs up on an all-inclusive rate plan that includes Muve Music. Muve Music subscribers have
access to unlimited downloads
of their favorite music and access to exclusive artist commentary, music and video through Muve Music's Muve First and Muve Headliner monthly artist programs. With millions of songs at their fingertips, customers will never pay per song, and no contracts are required.
Amazing Camera
The HTC One V, featuring HTC ImageSense™, offers an amazing 5-megapixel camera that delivers fast image capture and better image quality under adverse conditions, thanks to the f/2.0 lens with back- illuminated sensor. An easy-to-use display with side-by-side photo and video capture buttons means the HTC One V can serve as both camera and video recorder with HTC Video Pic™. With quick activation directly from the home screen, superfast autofocus and continuous shooting, customers are able to take as many as 30 photos simply by holding the shutter button. HTC Sense 4 also integrates Dropbox™, with up to 25 gigabytes of free space for two years, enough storage for more than 10,000 high-quality photos.*
Premium Design
Utilizing the classic, award-winning design of the HTC Legend™, the HTC One V offers a sleek unibody design and offers entry-level users a high-quality, high-performance model that they'll want to show their friends. The timeless, simple aluminum unibody architecture and slightly curved chin allow the HTC One V to fit smoothly in the palm of your hand.
About HTC
Founded in 1997, HTC Corporation (HTC) is the creator of many award-winning mobile devices and industry firsts. By putting people at the center of everything it does, HTC pushes the boundaries of design and technology to create innovative and personal experiences for consumers around the globe. HTC's portfolio includes smartphones and tablets powered by HTC Sense®, a multilayered graphical user interface that vastly improves user experience. HTC is listed on the Taiwan Stock Exchange (TWSE: 2498). For more information, please visit
www.htc.com
.
About Cricket
Cricket is the pioneer and leader in delivering innovative value-rich prepaid wireless services with no long-term contracts serving approximately 6 million customers. Cricket offers nationwide wireless voice and mobile data services over high-quality, all-digital wireless networks. Cricket's innovative products and services including the award-winning Muve Music® - the first music service designed for a wireless phone, are available nationwide at Cricket branded retail stores, dealers, national retailers and at
www.mycricket.com
. For more information about Cricket, please visit
www.mycricket.com
.
For more information about Cricket's dynamic service and newest device lineup and to check for availability, visit
www.mycricket.com
. To follow Cricket's latest news and updates online, visit Facebook at
www.facebook.com/cricketwireless
and Twitter at
www.twitter.com/cricketnation
.
Email Cricket Communications