Lear Capital launches a unique Presidential Gold Poll for the Upcoming 2012 Election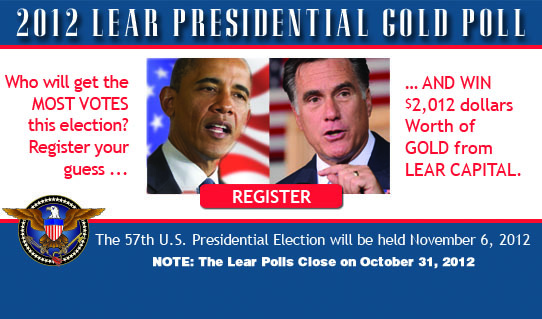 Lear Capital (
www.learcapital.com
), a leading precious metals company located in Santa Monica, California has created an interesting National Presidential poll that is gaining traction nationwide. Their Presidential Gold Poll allows registrants to guess the final popular vote in the 2012 Presidential election this November and the closest guess will be awarded $2,012 worth of gold. Yes, that's correct GOLD. Not a bad reward for putting some thought into our uniquely democratic process and for as Lear puts it "flexing our freedom."
The pundits are calling the 2012 Presidential Election the most important election in a generation. On November 6th America will go to the polls once again to either re-elect Democratic President Barack Obama or elect the former Republican Governor of Massachusetts Mitt Romney as President of the United States. It is an historic election in many respects by virtue of the monies being spent on both sides as well as the staunch ideological differences emerging in both party platforms.
Some are predicting that voter turnout will be low, others claim passions are running extremely high. Some are preparing for raucous debates and a divisive election season, while others merely point out that the two men are simply poles apart. All agree that it is a serious election about very serious issues including the economy, healthcare, energy, the deficit, Iran, terrorism, etc. Both sides offer a coherent and unified vision but very different philosophies of government and very distinct remedies for curing all that ails America. Voters across the country will no doubt … have a very clear choice on November 6th.
Lear Capital's Presidential Gold Poll costs nothing to enter and merely asks us to "guess" the final Presidential vote count. This may not seem all that difficult in this age of daily polling data and voting trends. But if the US elections have taught us one thing, it's that we can never really predict what the American voter will ultimately decide. The very private process of the ballot is a uniquely personal experience. And the protected space of the polling booth is a rare, confidential sanctuary. It is a refreshing exercise in this age of rampant information sharing and privacy violations. There is no doubt that we are born alone, we die alone, and we thankfully vote alone.
Lear Capital's Presidential Gold Poll also features a Second Prize for anyone that refers someone else to also take part in their poll, a Gold American Eagle Bullion coin. Now that's incentive to urge others to vote. Perhaps election officials should try that nationwide!
Anyone can register to take part in the Presidential Gold Poll at
www.learcapital.com
where there is also a second-by-second Election Countdown Clock. The Presidential Gold Poll will close at MIDNIGHT on October 31, 2012 and results will be announced on Lear Capital's web site on or before November 30, 2012.
Email Lear Capital Marketing