World On Skis Announces Availability of Digital Brochures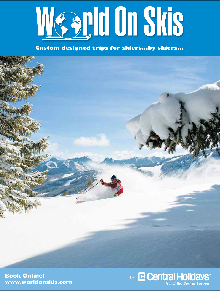 In-depth brochures offer extensive information on ski destinations around the world
World On Skis, the travel company for skiers by skiers, has announced the availability of its digital brochures on its website. The full-color brochures offer in-depth information about some of the world's most popular ski destinations, including mountain stats, trail and terrain info and details about individual resorts and lodges.
While ski season is still months away in the US, many skiers are already planning their winter getaways, especially those who hope to travel internationally for their ski vacations. World on Skis specializes in world-class ski experiences around the world as well as in North America. The digital brochure makes it easy to discover leading resorts, and learn more about the skiing opportunities available. Additional information can be found on the site, and the search feature simplifies the process of finding a specific resort and requesting a price quote on travel there.
"Flipping through a ski brochure is one of those little pleasures in life, and a fun way to discover new adventures and dream about your next vacation," says a World On Ski's Representative. "We wanted our digital brochure to put all of those features into a convenient form that skiers can turn to whenever they want to plan their next getaway."
Several brochures are available on the site. Currently available are the Annual world on Skis brochure for 2012/2013, the Piemonte brochure and the Switzerland brochure. For more information, visit
http://www.worldonskis.com.
About World on Skis: Travel with World On Skis by Central Holidays ensures the very best skiing adventures for ski aficionados of all levels and budgets. World On Skis presents the ultimate snowboard and ski vacation packages to the most popular destinations across the globe. It bring skiers the best value-packed ski deals money can buy, whether they prefer downhill skiing, cross country trails, spectacular snowboarding or simply enjoying the invigorating mountain air, stunning panoramas and distinctive world cultures. For additional information or to make reservations, contact World On Skis, a brand of Central Holidays at 1-866-678-5858. To book online, visit their website at
www.WorldOnSkis.com
.