Vinyl Concepts Announces A+ Rating from Better Business Bureau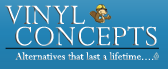 Rating reflects company's continued commitment to providing excellent customer service.
Vinyl Concepts has announced that it has received an A+ rating from Better Business Bureau, reflecting its ongoing commitment to ensuring the satisfaction of its customers. BBB rates companies on 16 different factors, and cites several key factors that contributed to Vinyl Concepts' raised rating. These include the length of time Vinyl Concepts has been operating, the low complaint volume for its size, and the way it responds to and resolves any issues that do come up.
"No company is perfect, and mistakes can happen," says Richard Stull, President and CEO. "It's how we deal with those mistakes and or misunderstandings that sets us apart from the competition. We take great pride in the fact that our commitment to making customers happy has helped raise our rating with BBB."
Vinyl Concepts is a popular provider of vinyl outdoor solutions, including patio covers, gazebos, fencing and decking in the Southern California area. Each of its products is manufactured in-house and with an eye towards environmental friendliness. For more information about the company, visit
www.patiocoversca.com
.
About: Headquartered in Thousand Oaks, California, Vinyl Concepts serves Santa Barbara, Ventura, Los Angeles, and Orange Counties from three facilities. From these facilities the company manufactures all of its products in-house and keeps roughly 100 different size and color profiles, extrusions, and roll formed shapes in stock. Vinyl Concepts uses these raw materials to make its products which are both sold and installed across Southern California, and shipped across the country and beyond.