Moss Bros. Auto Group Celebrates Silver Anniversary in San Bernardino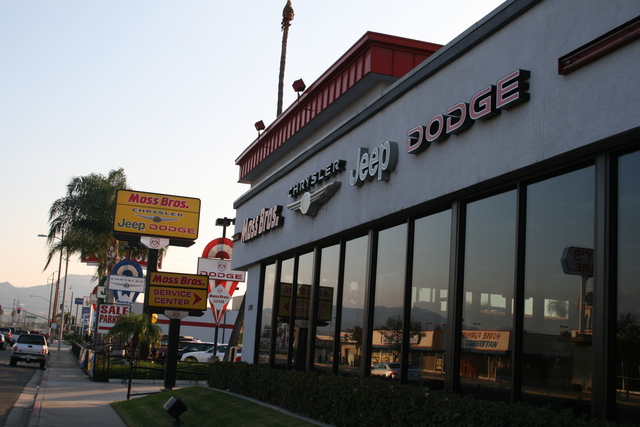 Moss Bros. Chrysler Jeep Dodge Ram Celebrates 25 Years in San Bernardino
(San Bernardino, CA) For a company with a history spanning more than 90 years in the Inland Empire, Moss Bros. Auto Group still has plenty of reasons to celebrate many other milestones within their organization. Many local residents are focusing on Labor Day barbeques, but the staff at Moss Bros. Chrysler Jeep Dodge Ram in San Bernardino are thinking about the last 25 years and the thousands of customers they've helped along the way.
The dealership was opened on September 1, 1987 by J.A. "Jay" Red Moss, III and his brother Glenn L. Moss, Sr., who is the current President/CEO of Moss Bros. Auto Group. The dealership has been recognized year-after-year for exceptional customer service by Chrysler. In the last 25 years they have employees thousands of local residents. This team of dedicated professionals has donated hundreds of thousands of dollars to local charities including youth soccer teams, Little League, hospitals, and schools.
Glenn Moss had this to say about the milestone achievement for his dealership: "The last 25 years for us have been an exciting venture. San Bernardino has seen some great opportunities and a handful of challenges, and the people have remained loyal to our business. We try every day to reward that loyalty with great service, low prices, and support to local community organizations."
The celebration is staying low key as the dealership kicks off its "Labor Day Red Tag Sale". They have put together attractive pricing including dealership discounts, factory rebates, and 0% APR available to those customers with qualifying credit.
If you would like to know more about the company's history or the Labor Day Red Tag Sale, please visit
www.MossBrosCJDRSanBernardino.com
or call (909) 884-8255.
Email Moss Bros. Auto Group