New UK payday lender with a 'northern flavour' - yorkshirecash.co.uk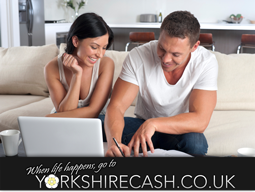 Online payday lender yorkshirecash.co.uk announced today that it has seen
over 50,000 visitors
to its site at
www.yorkshirecash.co.uk
since officially launching in March 2012.
The service - which operates as a
direct payday lender
under license from the Office of Fair Trading and is a member of the Consumer Credit Trade Association - utilises a bespoke online application and credit scoring system specifically developed for yorkshirecash.co.uk.
Sophisticated credit scoring metrics and the latest modelling techniques are utilised to provide a seamless, fast and efficient application process with a near-instant decision provided to the consumer. In rare instances additional documentation is required but the vast majority of loan applications are scored and approved or declined within minutes.
Yorkshirecash.co.uk does not however seek to differentiate itself from other payday lenders purely through its use of technology: "Apart from the technologically advanced aspect of our business, at yorkshirecash.co.uk we are more concerned with the human element. Our company revolves around
the choices people have 'when life happens'
which is why it is incorporated in our logo", says business development manager John Mitchell.
Mitchell continues: "We have very robust fraud prevention procedures, coupled with one of the strictest credit policies in the industry. While there is certainly merit in the discussion surrounding the negative effect of irresponsible unsecured short term lending, we firmly believe that in times of real need, our service can be a vital lifeline to those that simply cannot make ends meet at a given point in their life. Our goal is to identify only those customers that truly require this service as a one-off emergency, and who do not have any alternative."
Yorkshirecash.co.uk could very well represent a new breed of
online payday lenders
who are seeking to establish themselves as responsible yet viable alternatives to the credit needs of millions of consumers currently feeling the pinch in an increasingly sluggish economy. One public online review of the company describes them as "Fantastic People" which is a far cry from the grimy image of seedy loan sharks that seem to make good headlines.
Mitchell invites consumers who are genuinely in a pickle and need a short term solution until their next payday to give yorkshirecash.co.uk a try. He states: "
Payday loans
should be seen as a solution of last resort. It should never be used as a consistent crutch, but should be seen as a one-off solution to a singularly unexpected event which leaves you short on cash. If you are in a position where you know you will be able to repay it on your next pay day, yorkshirecash.co.uk is the ideal place to come to when life happens."
Yorkshirecash.co.uk can be found at
www.yorkshirecash.co.uk
or can be reached through their UK call centre which is open 24/7 on 08452 590 323.
Email yorkshirecash.co.uk