INgage Networks Leverages Implementation Excellence of CC Intelligent Solutions in Newly Formed Partnership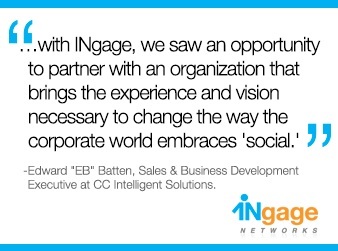 INgage Networks
announces its partnership with
CC Intelligent Solutions
(CCIS), a leader in delivering robust, powerful, and easy-to-use IT solutions. This announcement highlights one of the several highly strategic partnerships that INgage is developing to support the company's unique approach of providing comprehensive end-to-end solutions that empower its customers to fully leverage the value of their social software investment.
While INgage remains focused on its core business offerings – combining a component-based social technology platform with network strategy consulting – the company relies on a strong
partner network
to complete its solutions. These partners have extensive industry expertise and provide best-in-class services that are consistent with INgage's focus on customer success.
CCIS will serve as an implementer of choice for INgage's
Network Experience Solutions
™, ensuring that customers benefit from CCIS' expertise and reputation for successfully implementing enterprise-class IT implementations within some of the most complex, demanding and heavily regulated industries.
With this partnership, CCIS gains a trusted partner with a viewpoint and approach that differs from typical providers of social business software. "Our preconceived impression of the term 'social,' as it applies to the work space, did not necessarily have a productive and profitable connotation," said Edward "EB" Batten, Sales & Business Development Executive at CC Intelligent Solutions. "But after talking with INgage, we saw an opportunity to partner with an organization that brings the experience and vision necessary to change the way the corporate world embraces 'social.'"
"During much of 2012, we have been focused on building the foundation needed to support our growth plans, and a key part of that foundation is our strategic partner network," said INgage's Executive Vice President of Sales and Marketing, Christine Richards. "Our partnership with CCIS provides us with not only an exceptional implementation partner, but also the means to help us confidently scale and meet the growing market needs for social solutions that are appropriate for a corporate environment."
About CCIS
CC Intelligent Solutions, Inc. (CCIS) is an official Microsoft Managed Partner with a focus on eGovernment, Battlefield, Commercial and complex integration projects using Microsoft Solutions, Mobile Applications and Virtualization Tools among others.
Clients include groups such as various Secretary of State offices, the US Army's 82d Airborne Division and the US Special Operations Command, all who operate in highly stressful, dynamic environments that demand responsive and reliable delivery of IT solutions.
About INgage Networks
Since 1999, INgage Networks has been helping organizations create value from the networks of people that are core to their business. We deliver Network Experience Solutions (online working environments) that strengthen those connections and enable people to better work together. Unlike most social software offerings, INgage solutions combine our deep understanding of how people interact in a network environment with a unique component-based technology approach. The end value is a network that works on behalf of the company to deliver measurable business value. More about INgage Networks, including our story, values and vision:
http://www.ingagenetworks.com/whoweare.aspx