Cupid's Library Offers Valuable Tips for Online Daters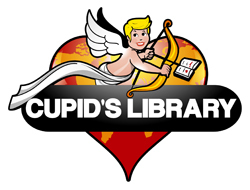 CupidsLibrary.com recently revamped their popular online dating platform, expanding their ongoing newsletter subscription service, adding feature blog topics and expanding their online dating review section. Their most sought after service- dating tips and advice!
Online dating has reached mainstream status, with nearly 40 million Americans alone giving it a try as of a study published in June, 2012 by The Washington Post. To navigate the world of online dating, many singles are in search of tips and resources to improve their overall experience and outcome.
"Our site strives to offer the latest tips, online dating site reviews and resources for all singles. Cupid's Library visitors are well informed and armed with the latest information about how to successfully navigate through this new era of dating," said one of the company's founders.
One of the most popular features offered by the Cupid's Library platform is the dating review section. Visitors have the opportunity to rate top online dating sites, using an easy to follow star system. These reviews help singles navigate through the numerous dating platforms available. Currently, the top ranked dating sites include cupid.com, eharmony.com, Mature Dating UK, Date.com and Muslima.com.
Each dating site is organized in a slightly different fashion in an attempt to cater to the variety of singles dating goals. as everyone is unique, so are the criteria they are searching for in a potential mate. To help singles navigate their online dating searches, information is provided by general dating category. Some of the top categories include: ethnicity (African American, Caucasian, Indian, Asian, Latino and more), Language, Lifestyle, Sexual Orientation, Religion and even Profession.
Another popular feature that keeps visitors engaged is the Cupid's Library weekly newsletter. Newsletter subscribers will receive weekly online dating updates, information, platform reviews and tips. For readers seeking additional tips and information, the site's blog offers all of the answers. Contributing writers post regular features covering dating tips,
online dating advice
, and
online dating site reviews
. While some of these features will land themselves in the platform's weekly newsletter, online daters are encouraged to visit the blog regularly to receive the latest in tips, resources and general information.
Visitors to the Cupid's Library.com online dating review platform will gain access to valuable dating information, tips and resources within a few simple mouse clicks. Visitors seeking regular dating tip updates are given the option to subscribe to the platform's weekly newsletter.
For more information about Cupid's Library, visit
www.CupidsLibrary.com
.