Going Beyond Borders with YCIS Shanghai International School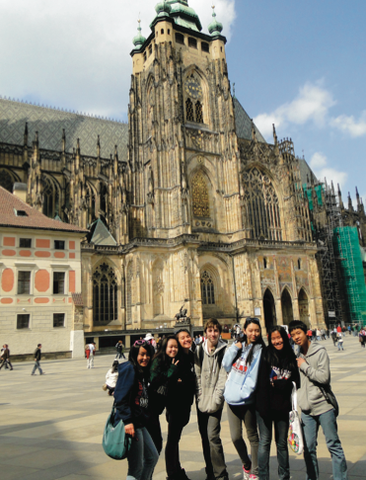 Travel, all year round, is a way of life in Shanghai, whether it's reconnecting with friends and family back home, or heading off on a holiday. Expat children quickly get the routines down pat: crisscrossing continents, managing time zones and dipping in and out of different cities, countries and languages. But aside from collecting passport stamps and frequent flyer miles, what are these young globetrotters gaining from their trips?
As parents who try to inject a little culture and educational fun into those trips know all too well, the answer is often "not very much." So it is interesting to consider other models of travel, ones that get the most from both the destination and the young traveler.
World Classroom
at Yew Chung International School of Shanghai (
YCIS Shanghai
) is one example of a program that has been successful on both of these fronts over the years. Students aged 12 through 16 travels to major world cultures with the goals of developing social skills, an appreciation of culture and different worldviews and a heart for community service.
To this end, the program takes each age group on an in-depth tour of a distinct cultural region: American-Pacific culture for Year 7, Mediterranean culture for Year 8, Eastern European culture for Year 9 and the culture of developing countries for Year 10. While planned visits to historical landmarks like the Taj Mahal cultivate appreciation of culture, students say some of their most memorable history lessons are first-hand experiences, like dancing with the Masai tribe in Tanzania and speaking with ballerinas on a backstage visit to the Bolshoi Ballet in Russia.
"World Classroom is a fantastic opportunity to explore different cultures and to see the world. Having been at YCIS for 12 years already, I have been on three of the four World Classroom trips, and each destination is very unique with memories that I will never forget." Celine, Year 10
Each trip also includes a visit to local schools to allow students to make friends with their host country peers as well as students from YCIS schools across China. Students experience cultural similarities and differences over shared meals, informal lessons on each other's native languages and cultural performances they have prepared for one another in advance. This engagement deepens their understanding of, and appreciation for, the cultural perspectives of others.
These local school visits also serve as an opportunity for community service. Students can be found painting classrooms, delivering school supplies and teaching English, among other activities.
"Have you ever been to a part of the world that is so close, yet worlds apart? Have you ever experienced being able to make someone less fortunate than you laugh? The
YCIS World Classroom
allowed us to do just that. It helped us really get a new perspective of things that happen outside of our own perfect little bubble." Diana, Year 10
World Classroom Program Manager, Edward Hepting, who has been at the helm of the program for 10 years, sees students return with a fresh perspective year after year.
"(The students develop) a realization that children all over the world share commonalities," says Hepting. "Simultaneously, they return with a heightened awareness of the problems and differences that their peers, and thus the world, face."
"We created the World Classroom Program to challenge students to see learning as something that can and does take place beyond the walls, confines and limitations of the classroom," explains Hepting. "It has its roots in YCIS's philosophy and mission to prepare students to be lifelong learners, to understand the richness and diversity of Eastern and Western history and cultural traditions, and to be responsible world citizens with a commitment to serving family, society and community."
Yew Chung International School of Shanghai (
YCIS Shanghai
) has served the needs of Shanghai's expatriates by providing excellent international education in a multicultural environment since its establishment in 1993. Located in prime locations within in Puxi and Pudong areas to accommodate the growing number of Early Childhood, Primary and Secondary students in the Shanghai expatriate community. YCIS Shanghai serves over 2300 students from 52 countries and regions, and students graduate to some of the most prestigious universities around the world.YCIS Shanghai is an IB World School.
Contact:
Yew Chung International School of Shanghai
Hilary Claypool, Marketing Manager
Tel: (86 21) 6242 3243 x133
enquiry@sh.ycef.com