KSA Vision Clinic Releases English Version of Website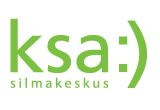 KSA Vision Clinic, a premiere laser eye surgery practice in Tallinn, Estonia has launched an English version of their website to in an effort to attract more patients and make their practice more accessible throughout Estonia and surrounding countries. The website, located at
www.ksa.ee/en/
, offers comprehensive information on KSA's surgeons and staff, the practice facilities, and the services offered. By providing all of this information to English-speaking patients, KSA hopes to expand their practice and their reputation for performing excellent laser vision correction.
Patients who are interested in enhancing their vision and lifestyle can access KSA's updated website to learn more about their options for laser eye surgery, including Matrix LASIK and KSA's premier "Flow" no-touch vision correction technique. They can also find information on experienced
Estonia LASIK surgeon
Ants Haavel and his staff, so that they may feel comfortable about their decision to choose KSA for this life-changing procedure. Other features of the updated website include financing and cost information, a frequently asked questions section, and the latest news and updates from the practice. Current and potential patients can also find information on pre-and-post-operative care, as well as specific details about the technology employed at the practice. All of this information serves to help patients better understand their treatment options and feel comfortable with their decision to undergo laser eye surgery.
About KSA Vision Clinic
KSA Vision Clinic is a leading provider of laser vision correction in Tallinn, Estonia. Over the years, they have attracted thousands of patients from throughout Estonia, Norway, Sweden and surrounding countries who wish to improve their eyesight and their quality of life. Dr. Ants Haavel and his staff remain true to their philosophy of individualized care and perform thorough pre-operative examinations to determine the best treatment for each patient. Among the patients they treat more often are
Tallinn Flow
and Matrix LASIK patients. To learn more about KSA Vision Clinic and the procedures they offer, visit their website at
www.ksa.ee/en/
, or
contact the practice
at (+372)644-5060.