Chemical Free Solution for Your Hot Tub or Home Spa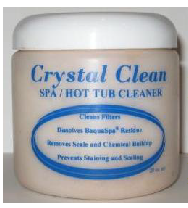 One bottle solution for maintaining your hot tub or home spa
Clarity Water Products, the most trusted company for chemical free water treatments, has the products that can make the chemical maintenance and balancing of hot tubs and spas a thing of the past. The New Blue Natural Spa is an all-natural enzyme treatment that will keep your hot tub or spa water comfortable and clear.
Clarity Water Products has other products that transform your hot tub or home spa into a mineral spa. Switching from a chemical system to a Natural Spa is easy, and Clarity Water Products has all-natural products that can be used to transition any kind of spa or hot tub to a natural spa. There are many benefits in converting to a Natural Spa, like no chemical odors, less maintenance, and no more rashes and or allergic reactions due to chemicals in the water.
The New Blue Natural Spa is the easiest way to maintain a spa or hot tub, using only natural enzymes. Visit their website to find discounts and starter packages to convert your hot tub or spa into a natural spa.
For more information, please visit Clarity Water Products website at
www.claritywaterproducts.com
. They can also be reached by phone through their toll free number 1-800-860-2477, from 9AM to 7PM, Pacific Standard Time.
About Clarity Water Products
Based in Vista, California, Clarity Water Products is a leading manufacturer and supplier of water treatment products for applications like well water purification systems, whole house water filtration systems, chemical free residential swimming pool systems and natural hot tub or spa maintenance products. Clarity Water Products has the experience and expertise you need for Chemical Free solutions for to your water purifications needs.
Email Clarity Water Products