Custom South Coast Surfboard for Chipper Jones from the San Diego Padres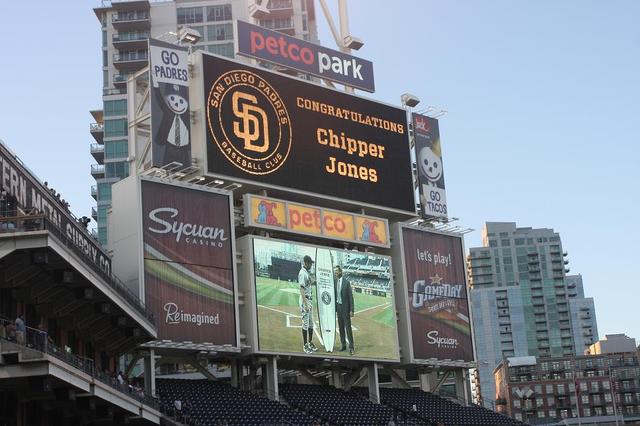 San Diego, CA - September 13, 2012 - All was not lost for Atlanta Braves Larry "Chipper" Jones when Atlanta recently suffered a 3-0 loss to the San Diego Padres, since he left Petco Park as the proud owner of a one-of-a-kind South Coast surfboard, given to him by the Padres in honor of his 20 years in major league baseball.
"Anyone know how to surf?" Jones Tweeted, on receiving the South Coast Surf Shops surfboard as a gift to honor his retirement, during his 2012 season-long farewell tour. With an illustrious career to his credit, third baseman Jones, who has played for 19 seasons with the Atlanta Braves, is tipped by many to be inducted into the Baseball Hall of Fame, and it is no surprise that teams across the country have been seeking unique and meaningful gifts with which to honor him.
Since San Diego is a mecca for surfers, what better way for the San Diego Padres to pay honor than with a custom-designed surfboard, which was commissioned for Jones from leading
surfboard shapers at South Coast Surf Shops
. The Ocean Beach-based company, which is recognized by the surf community as a Californian institution, has been supplying surf wear and equipment and manufacturing surfboards through its South Coast Surfboards brand for some 37 years. South Coast Surfboards can be custom ordered for any occasion in any style or shape and are locally shaped right in Ocean Beach, San Diego.
Boasting two of the world's finest surfboard shapers, Robin Prodanovich and Larry Ricci, who bring vision and innovation to each design, the company was the Padres natural choice to custom-make a board for Jones. South Coast Surfboards's custom design services are much sought after by commercial and individual clients, and the team are happy to discuss specifications with potential new clients. This was a particularly special custom board for South Coast and many of the employees attended the game to watch the presentation of the surfboard gift to Chipper Jones.
For more information on custom surfboards from South Coast Surf Shop you can visit their website at
www.southcoast.com
.
Email South Coast Surf Shops