A healthy living space promotes good lifestyle and successful daily life - Sterling Developers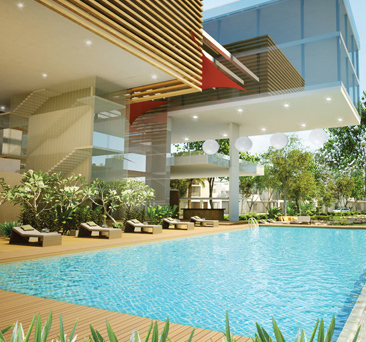 Your home is your slice of heaven; therefore, choosing a correct place to live might be a life altering decision. Sterling Developers Pvt. Ltd brings to you a range of contemporary residential spaces which have been built by taking your opinion into consideration. Their new project Sterling Villa Grande which is set to be launched in 2013 will offer an oasis of peace and tranquility to the residents. Located on a 39 acre land near Whitefield, the villas have been designed around the exiting green habitat while only few trees have been uprooted and transplanted. The inspiration for the project is old Bangalore, and the lively and healthy lifestyle it offered. Sterling believes that our lifestyle is influenced by our surroundings to a great extent and hence hopes to provide a great living style with Villa Grande.
Won't you agree that our behavior changes according to the environment we are in? An engaging and motivating environment promotes us do our best; whereas, a peaceful living environment helps us relax and rejuvenate. Be it the use of bright or soothing color scheme, nice comfortable furniture, or decor which can bring in more harmony; all of us trying to create great ambiance at home hoping to bring in a positive and soothing environment. With today's fast and high powered jobs bringing with it high amount of stress and a certain disregard for health, it has become doubly important to be cautious when buying a house as this is the place where you recuperate from your daily work life.
Many studies on how living areas affects one's lifestyle have shown that people living in clean and green environment have a positive outlook and enjoy good emotional and mental health. The location of the house, the space availability, the light and ventilation, and the materials used while building the house can have various serious impacts on our every day activity. A well-built home has the potential to influence the resident's everyday life and also bring in favorable lifestyle changes.
Not only does your residential space have the potential to affect your emotional well being but it also has the capability to improve your physical health. For Instance, a house in a locality which has landscaped parks and jogging tracks can tempt you to venture out of your home to get some well-needed exercise and compel you to breathe in some fresh air. Some of the best houses are considered to be those which promote good health by minimizing the allergen exposure, have safe locality, have no toxic chemicals, have unrestricted space, uses energy efficient solutions, and helps people De-stress completely.
Yes, finding everything you expect in a single place within your budget can be slightly difficult. Listing down most important expectations can help you choose a residential space which satisfies most of your requirements. Some of the real estate developers like Sterling Developers in Bangalore have come up with new concepts to improve living conditions in major cities where space availability and green corridors have reduced due to increased population. By building well-ventilated comfortable living quarters in different community sized projects, these builders have created some of pollution-free zones in Bangalore. Choosing houses in these places from a well-known land developer can help you step towards better living conditions.
Email Sterling Developers