Brian Wilson, President of WerkMaster to Instruct at International Concrete Polishing and Staining Conference on Job Costing and Estimating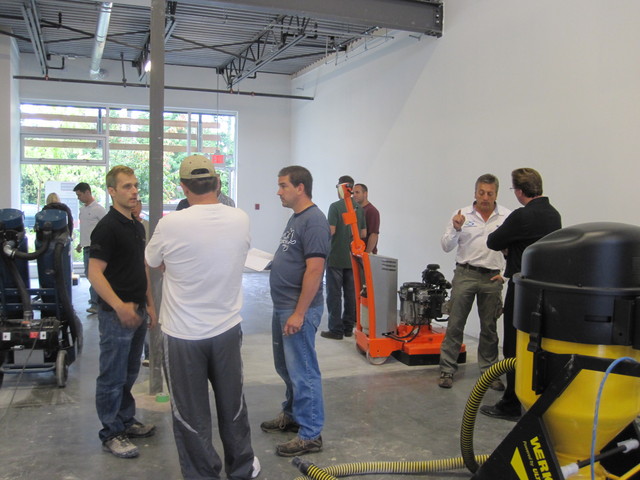 Vancouver, BC – September 24, 2012 – The International Concrete and Polishing Conference is the voice and venue for today's concrete polishing contractors. The sole purpose of the ICPSC is to bring together contractors, manufacturers, suppliers, designers, architects and industry leaders to discuss and learn about new advances in the application, process, maintenance and value of polished concrete as a viable alternative to existing flooring solutions.
Classes and seminars will include discussions and training on new products, techniques, Green sustainability, polished concrete101, densifiers, sealers, diamond abrasives, and other industry topics. Brian Wilson, President of WerkMaster will be presenting a class on Estimating and Job Costing. "I look forward to discussing some of the Pain Points that many contractors today experience in determining how to cost and estimate a job," says Wilson, "The Concrete Polishing Industry is growing and architects, designers and customers are becoming more sophisticated in their knowledge and expectations. Contractors need to be sure they have covered all their bases before submitting a quote. Proper costing and Pre Planning is essential to ensuring the job is profitable." The course outline can be found at;
http://www.icpsc365.com/icpsc2012/pricing-and-estimating-a-polished-concrete-project-brian-wilson
Attendees will have an opportunity to see the latest in equipment, techniques, products and advancements as manufacturers and suppliers will have both demonstration and exhibit areas.
In addition to its highly regarded seminars, this event allows you to see and try the latest innovations in the industry while connecting with your peers from around the globe. The ICPSC is a true international event with exhibitors and attendees coming from over 30 different countries.
"These annual events will present an unbiased look at all the latest our industry has to offer in technology and knowledge," comments ICPSC founder Charles Griffasi. "ICPSC is not affiliated with any industry manufacturers or providers." The ICPSC is the only event of this scope and caliber dedicated specifically to the Concrete Polishing Industry. The interaction between manufacturer, producer, contractor, architect and engineer is unequaled.
The conference will again be held at the spacious Gwinnett Conference Center, October 11th to 14th in Atlanta, Georgia. For further information or to register for the event, please go to:
www.icpsc365.com
About WerkMaster™
WerkMaster™ is proud to be one of the most innovative and effective manufacturers of award winning polished concrete and surface preparation equipment as well as stone, terrazzo and hardwood floor refinishing machines. WerkMaster's floor finishing equipment and countertop tools are really 7 Machines in 1: Edger, Polisher, Grinder, Buffer, Burnisher, Sander and Stripper that edge to within 1/8" or 3mm of the wall.
"We are constantly looking for ways to improve our technology" stated Wilson, "moving forward in the industry with a goal of providing the best possible solution to our customers. We are excited to once again be a part of the International Concrete Polishing and Staining Conference."
For more information please phone 1-866-373-9375 or visit our website at
www.werkmaster.com