Snowbound Software Releases VirtualViewer AJAX 3.0 for IBM FileNet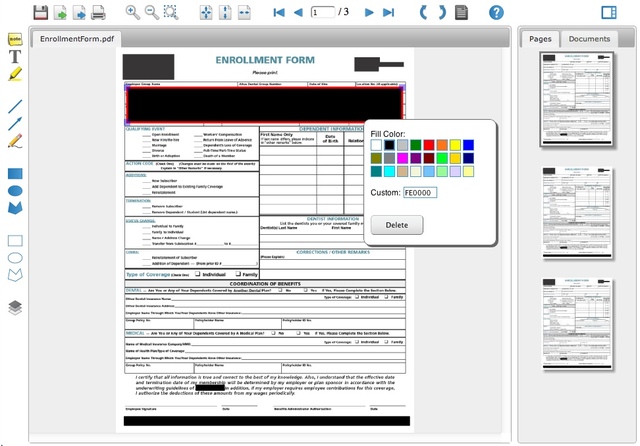 Waltham, MA (September 26, 2012)
– Snowbound Software, the market leader in document viewing and conversion solutions, announces the release of version 3.0 of the firm's installation-free VirtualViewer AJAX document and image viewer for IBM FileNet.
VirtualViewer AJAX 3.0 FileNet Viewer introduces several major improvements including:
A sleek new User Interface – The more modern and user-friendly UI enhances the user experience and streamlines workflow through more intuitive menu options.
Support for FileNet Annotations – Users can retrieve, view, and modify existing FileNet annotations as well as save to the FileNet annotation format, making it easier for organizations to migrate from or extend their existing solution.

Simplified Annotation and Redaction Management – Users can quickly and easily add annotations or redactions to any document or image with right-click menu options to expedite review and collaboration processes.

Create New Document – In addition to moving and deleting pages within documents, users can generate a new document that contains only the page(s) that they need by copying required pages from existing multiple documents - to further streamline their workflow.

Expanded International Language Capabilities – Easy UI localization and support for double-byte annotations enables text notes, rubber stamps and sticky notes to be displayed in any language, allowing a single deployment of VirtualViewer to address the needs of an organization's entire globally distributed user base.
"We are very excited about the enhancements in the VirtualViewer AJAX 3.0 FileNet Viewer release because they make it even easier for our IBM customers to rely on one vendor and one solution to address all of their document viewing challenges," commented Simon Wieczner, President of Snowbound Software.
"Because our viewer is a true Zero Footprint viewing option complete with functionality critical for document processing, many of our IBM FileNet customers chose to use VirtualViewer as their only viewing solution. However because of its flexible architecture and our familiarity with the out-of-the-box viewing option provided by FileNet we make it easy for customers to add our viewer to augment their current viewing solution, providing their users with a true Zero Footprint option," Wieczner added.
To meet various work group requirements within an enterprise, Snowbound has also provided additional configuration options in the viewer enabling VirtualViewer to be easily tailored to meet the most demanding corporate needs. Additionally the viewer can auto detect the language setting of the user's browser and automatically display the viewer's menu(s) and dialog boxes in the end-user's language.
Snowbound's VirtualViewer AJAX FileNet document viewer is a 'Pure HTML' document viewing solution enabling file retrieval through a universal Web application. It does not require any client-side installation, creator application, or plug-ins such as Flash, Adobe or Office. VirtualViewer AJAX works with any standard browser, provides on-the-go mobile document viewing, and delivers flexible cross-platform support.
Combining VirtualViewer document viewing application with IBM FileNet Content Manager gives organizations a high-speed FileNet Viewer for optimal workflow and processing capabilities, enabling users to access, view, convert, manipulate, annotate, and print virtually any document and image formats stored within the FileNet repository.
Snowbound's technology is embedded within mission-critical processes by a variety of organizations, including seven of the world's ten largest financial institutions, five of the largest US insurance companies and three of the world's biggest delivery service organizations.
Snowbound will be demonstrating VirtualViewer AJAX 3.0 for FileNet at the upcoming IBM Information On Demand conference in Las Vegas, Oct. 21-25 in booth 1122. You can also try the viewer online at
ajax.snowbound.com
.
Pricing and Availability:
Snowbound's VirtualViewer AJAX 3.0
FileNet Viewer
is available immediately for Java and .NET (x32 or x64). Standard pricing begins at $10,000 plus distribution. Volume discounts and OEM pricing are also available. Learn more about our full line of document and image viewers:
VirtualViewer Document & Image Viewer
.
Who is Snowbound Software?
You may not realize it, but you probably interact with us several times every day.
We help deliver your mail, process your insurance forms and claims, expedite your banking transactions and even securely distribute your patient information to healthcare professionals.
Since 1996, our offerings have provided the means to keep information flowing smoothly and securely in the digital age. Using our technology helps organizations better organize and utilize their information, to optimize workflow, and best serve their customers and their employees.
We make powerful solutions for document viewing and conversion that enable information created in a variety of formats to be efficiently and effectively leveraged – to help keep companies running smoothly – and their customers satisfied.
For more information, contact us at 617-607-2010 or email:
info@snowbound.com
, or visit our website:
www.snowbound.com
, or blog:
http://blog.snowbound.com
.
Follow us on social media:
Twitter:
http://twitter.com/snowsoft
LinkedIn:
http://www.linkedin.com/companies/snowbound-software
Facebook:
www.facebook.com/snowboundsoftware
VirtualViewer, RasterMaster, SnowBatch and Page on Demand are trademarks or registered trademarks of Snowbound Software Corporation.