Lear Capital's Live Presidential Poll Enters the Final Forty Days for an Election Winner and a Gold Giveaway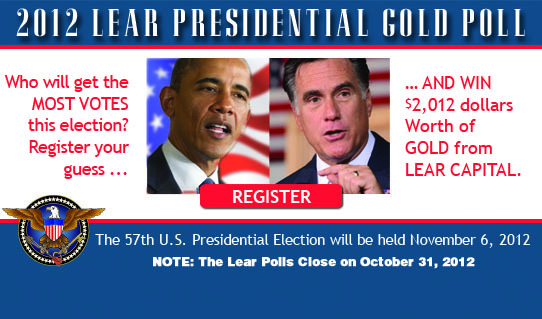 There are only 40 days to go until the US Presidential Election of 2012 and Lear Capital's Presidential Gold Poll has had thousands of hits (
www.learcapital.com
). Former Governor Mitt Romney has been leading President Barack Obama throughout the contest by anywhere from 3 Million to as many as 6 Million votes. Does this tell us anything about the pulse of the nation or is this merely how an investing audience believes the vote will go in just 40 days. The poll displays a running average of how voters are casting their ballots in real-time and the closest guess to the final vote count on November 6th will be awarded $2,012 worth of gold bullion from Lear Capital. The poll which has been live since late August closes at midnight at the end of next month.
With both party's conventions now over and the first debate right around the corner, there is a clear choice emerging in the upcoming Presidential contest. It is a choice of "stay the course because things have gotten better" versus "change direction because not everybody is feeling it." Both candidates also have clear stances on the hot button issues of the deficit, job creation, Medicare, entitlement programs, education, the role of government, and terrorism … but they are very different positions. And Lear's tight poll hints at a potentially divided nation and what looks to be a close contest on November 6th.
All of this makes the first Presidential debate more critical than ever. Taking place at The University of Denver on October 3rd and sponsored by the Commission on Presidential Debates, the topics will include the Economy for three segments and then a segment each on Health Care, the Role of Government, and Governing. It will be the candidates' first opportunity to face each and present not only policy differences but style differences along with their varying visions for America. Everyone will be tuned into the post-debate buzz and/or bounce particularly in the battleground states of Ohio, Florida, Michigan, North Carolina, Wisconsin, New Hampshire and Iowa.
Lear Capital's Presidential Gold Poll costs nothing to enter and anyone can "guess' the final Presidential vote count and win $2012 worth of Gold Bullion from Lear Capital. Lear is also featuring a Second Prize for referring someone else to also take part in their poll, a Gold American Eagle Bullion coin.
Registration for the Presidential Gold Poll is available at
www.learcapital.com
where there is also a second-by-second Election Countdown Clock. The Presidential Gold Poll will close at MIDNIGHT on October 31, 2012 and results will be announced on Lear Capital's web site on or before November 30, 2012.
Email Lear Capital Marketing