Cyclon Batteries Assembly Plant Opened by Powervamp Ltd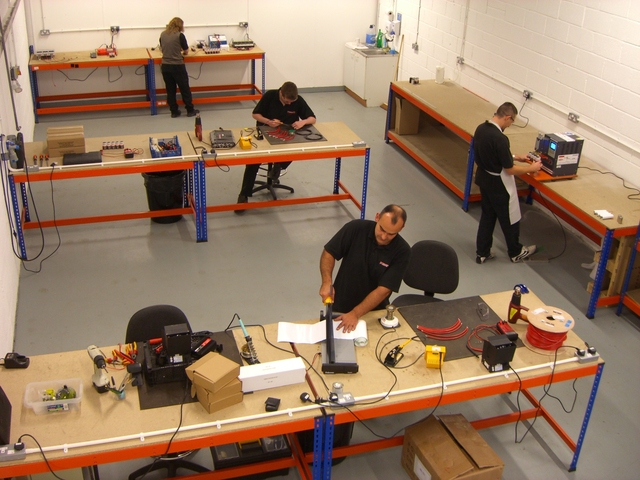 Powervamp Ltd – the
ground power
specialists known for their pioneering work in the portable power industry – are proud to announce the opening of their specialist battery assembly plant in Weston-super-Mare, UK. The new plant will develop specialist dry-cell battery packs, including the popular and best selling
Cyclon batteries
.
With the ever increasing need for greater power in smaller footprints, Powervamp identified an opportunity to offer a bespoke assembly service for its wide and diverse range of customers. The plant will enable Powervamp the ability to make up specialist dry-cell battery packs, suitable for many applications, with short lead times due to their ability to hold stock. The new plant has already helped secured several large contracts for Powervamp, where delivery dates were paramount and based on their speed of service. They continue to offer greatly reduced lead times compared to competitors.
The company is already one of the largest distributors of EnerSys (the global leader in stored energy solutions for industrial applications) for the pure lead range of Cyclon batteries. The recent investment in new equipment and staff sees Powervamp remain one step ahead of the competition.
The Cyclon pure lead cells have the greatest temperature range of any battery available on the market today, making it the number one choice for critical applications such as medical, oil and gas, and solar. Cyclon cells are individual 2V spiral cells that can be placed in series and/or parallel to provide almost any voltage and current configuration required by the customer. They can also be mounted in any orientation depending on the space constraints available, making it ideal for OEMs.
The new Powervamp facility has state of the art equipment to produce these bespoke battery systems, and with the use of its Solidworks CAD software, can produce 3D drawings to assist with the initial designs.
Group Sales Director, Kelvin Charles, commented: "We are delighted to be able to offer our customers a bespoke service from initial design, through to manufacture and supply. It makes complete sense that not only do we sell the individual batteries but we harness the knowledge and technical experience within our team to produce a complete package that our customers can rely on".
The small battery assembly plant has the capabilities to produce a range of battery packs from Nickel Cadmium, Cyclon and Lithium cells and is willing to quote regardless of job size. To discuss any aspect of the Powervamp battery assembly plant please call: 01934 643000.
About Powervamp Ltd (
http://www.powervamp.com/
): Powervamp offers customers bespoke solutions to complex portable and ground power needs, including
frequency converters
, specialist dry-cell battery packs and Cyclon batteries, and off-the-shelf ranges of quality products. The company also offers special support services around the world using its own team of qualified agent engineers and distributors. Contact telephone: 00 44 1934 643000 or email:
info@powervamp.com
.