Legal Assistant Joins the Law Office of Ronald D. Weiss, P.C.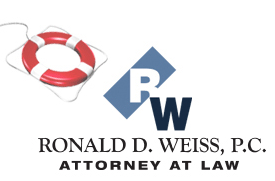 Providers of bankruptcy and foreclosure expertise to clients in the Long Island area, the Law Office of Ronald D. Weiss, P.C. is proud to announce the recent hiring of a new legal secretary, Krestina Gluth.
Gluth is an experienced paralegal with skills in document production and analysis. A legal secretary since 1990, she has been a paralegal and legal assistant for the Law Offices of Steven B, Epstein, located in Hempstead, NY; she has also worked for several other law firms, including Meltzer, Lippe, Goldstein et al., located in Mineola, and Sherman & Sterling, located in New York, NY.
Gluth's far-reaching work as a legal secretary makes her a valuable addition to the Law Office of Ronald D. Weiss, P.C., which is committed to utilizing the finest and most dedicated professionals to help clients with their financial difficulties. Ronald D. Weiss is himself a highly experienced legal professional, with a background that includes bankruptcy law, foreclosure law, real estate law, creditor negotiations, mortgage modifications, and landlord-tenant defense.
To find out more about the firm, please check out its website at
http://www.ny-bankruptcy.com
or call (631) 271-3737.
About NY Bankruptcy
Based in Melville, New York, the Law Office of Ronald D. Weiss, P.C. provides expert services in the areas of bankruptcy law and foreclosure. The firm, founded in 1993, serves clients throughout the greater Long Island and New York areas, representing businesses and individuals experiencing financial, foreclosure, and mortgage difficulties. A 1988 graduate of New York University School of Law, Ronald D. Weiss is a member of the American Bankruptcy Institute, the National Association of Consumer Bankruptcy Attorneys, the Suffolk County Bar Association, and the Nassau County Bar Association.