Berger moves households, businesses and government agencies around the world.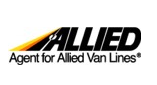 Berger moves households, businesses and government agencies around the world.
Berger — Allied Van Lines' biggest agent — has been helping to relieve the stress of moving, for individuals and groups, since it was founded in 1910. There are now 16 full-service Berger transfer and storage locations spanning the country, from the east coast to the west.
Berger's dedication to operating using the latest technology makes moving efficient and affordable for customers, whether the move is local, long-distance or international. Berger's employees help plan even the smallest details, when moving households, such as timing and storage. Berger also specializes in moving corporate offices and government agencies, offering features such as computerized tracking and barcode inventory management, to make moving as painless as possible.
Customers from around the globe have submitted glowing Berger Allied reviews and taken advantage of the moving tools listed on their website, and their Quick Quote Request. For more information about Berger Allied's services, and to read Berger moving and storage reviews, visit their website at
http://www.bergerallied.com
, or call 1-800-328-2459.
About Berger Allied
Berger Allied is a full service moving company that has been helping businesses, agencies, universities and individuals plan and accomplish their moves for more than 100 years. As an active member of the Better Business Bureau and Allied Van Lines' biggest customer, Berger has access to one of the most expansive moving networks in the world and uses the most up-to-date technology, in order to take full advantage of it.