Out of the Box Innovation with Pneumatic Conveyor Systems Increase Plant Efficiency with Automation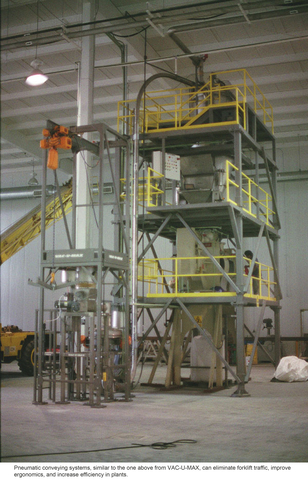 Belleville, NJ, September 27, 2012 – With an ever-increasing intensity to improve efficiency in manufacturing operations, a growing number of processors are turning to customizable ready-to-go
pneumatic conveyor systems
to deliver flexibility, integration and automation to their operation, and the VAC-U-MAX booth at PackExpo 2012 is the place where many go to find solutions.
In business since 1954, VAC-U-MAX, pioneer in pneumatic conveying specializing in the design and manufacture of pneumatic conveyor systems and support equipment for the conveying, weighing, and batching of dry materials, will have demonstration equipment and reps on hand in booth 7118 in the Processing Pavilion October 28-31, 2012 at McCormick Place, Chicago, Il.
From innovative systems for food packaging and reloading applications as well as pharmaceutical applications such as
Table Press Loading systems
that are complete, ready-to-operate systems, VAC-U-MAX combines modern electronic technology with innovative mechanical and pneumatic design to customize pneumatic handling systems that perform sophisticated operations with little human assistance, deliver flexibility, integration and efficiency that have long been sought after.
Whether PackExpo attendees are looking for a way to economically introduce an organic line into production; how to use the distribution feeder to distribute poppy seeds and nuts evenly across product; solutions for vacuum conveying and packaging salt; how to make adjustments in vacuum conveying lines to preserve product integrity; or, how to improve housekeeping and comply with OSHA's Combustible Dust Emphasis Program, VAC-U-MAX has the answers.
Sometimes processors assume that
pneumatic conveyor systems
are tough on materials because they have heard from others that it will deteriorate their finished product. However, pneumatic conveying is gentler than people think. In fact, says Pendleton, "we have designed pneumatic conveyor systems for products as delicate and precise as medicinal tea where more than 2 million bags of tea per week are produced."
The primary technology for conveying is vacuum, but positive pressure pneumatic systems as well as mechanical conveyors are used as applications dictate.
Often users of vacuum conveying systems assume they need a custom, one-of-a-kind solution when their application actually calls for a pre-engineered product that offers option capabilities to best fit their application.
"If people want answers to problems they have on the line, or want to increase production, or reduce labor intensive processes, they should stop by the booth and talk to us. More than likely we have dealt with a problem that is similar to theirs and can come up with a solution that fits their specific needs," says Pendleton.
In addition to nearly 60 years of experience providing solutions for conveying, vacuum conveying, batching, and weighing materials to the pharmaceutical, food, and chemical industries, VAC-U-MAX has a fully functional state-of-the-art 6000-sq-ft test and demonstration facility where they simulate actual conditions at a customer's site.
To get answers about
pneumatic conveyor systems
for bulk powders and solids or industrial vacuum cleaning solutions, visit VAC-U-MAX in booth 7118 at PACK EXPO 2012, or write to them at 69 William Street, Belleville, NJ 07109; call 1-800-VAC-U-MAX (800-822-8629); e-mail
info@vac-u-max.com
; or visit their website
www.vac-u-max.com.