New London Store for Discount Designer Wedding Dress Factory Outlet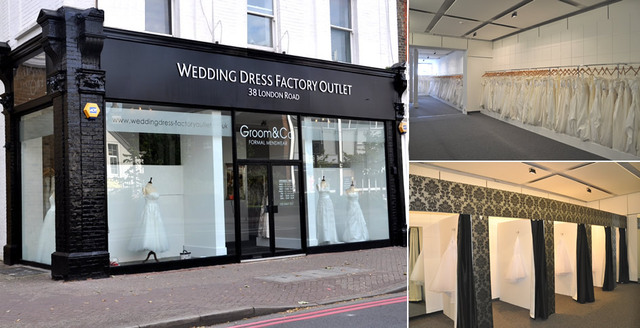 Over 700 discount designer wedding dresses are now available for savvy brides-to-be shopping for
wedding dresses in London
as the Wedding Dress Factory Outlet launches its new Bromley store. The Wedding Dress Factory Outlet has been something of a hidden gem in the Midlands where its Burbage flagship store has helped thousands of brides-to-be find their perfect designer wedding dress at a fraction of its retail price. In the past, women have travelled hundreds of miles to visit the factory outlet, which prides itself on its huge stock of high quality, cheap wedding gowns, its friendly service and excellent reputation. But now southern brides can also have the chance to browse the outlet's extensive collection a little closer to home, after a new London Wedding Dress Factory Outlet opened in August.
The London outlet is a spacious store with rails upon rails of wedding gowns organised by size for ease of browsing. There are over 50 brands of designer wedding dresses available, as well as an extensive range of plus size gowns by La Prima Bridalwear, and a pretty vintage range called Viva Bride. The majority of gowns at the Wedding Dress Factory Outlet are priced between £150 and £400, giving brides a potential saving of over £1,500 on a stunning, unique dress.
Continuing to the back of the store there is a large changing area where brides can try on as many wedding dresses as they like while their entourage relaxes in the comfortable sofas and gives their opinion on each gown. The experienced London staff go above and beyond to make each bride feel special, giving them as much time as they need to browse and choose the dresses they'd like to try, as well as offering advice and guidance on style, colour, design and accessories. There is a friendly and excited atmosphere in this unusual bridalwear store as brides from all walks of life convene to compare dresses, discuss their wedding plans and admire themselves in their gowns. And if they're looking to kill two birds with one stone, they can also visit the menswear store Groom & Co. downstairs, which offers affordable suit hire for their groom and groomsmen.
The average UK wedding costs over £20,000, and often a large chunk of that budget is spent on the bride's wedding dress. A typical designer wedding dress can cost from £700 to over £2,000, and for many brides this is just too high a price to pay for a gown they will only wear once. But what can a bride do when their heart is set on a stunning designer version, or they are unable to find anything they love within cheaper ranges? The Wedding Dress Factory Outlet set out to bridge the gap between the average bride and the high price of designer fashion, and its founder, Todd Cassidy, was determined to find a way to offer affordable designer bridalwear to every bride.
The wedding gowns at the outlet are not seconds or low quality replicates, but genuine designer dresses which have been sourced cheaply from a number of designers who, for various reasons, want to sell them quickly. For example, these might include wedding dresses from the end of a collection, or last season's designs, dresses that have been used in displays, catwalks or fashion shoots, one-off designs or gowns that have been returned, unworn. The savings are then passed on to the Wedding Dress Factory Outlet's customers, who are able to buy the wedding dress of their dreams for under £400.
The Wedding Dress Factory Outlet is excited about its new London venture, and so, it seems, are their new southern customers. One happy bride describes her visit: "Fabulous store with literally hundreds of fabulous dresses! Staff were very friendly, helpful and amazingly quick! I got a dress at a fraction of what I expected to pay and was out within an hour! I expected months of shopping! Highly recommend a visit, you won't come out empty handed!"
The real question, therefore, is what are these brides going to spend their budget on now that they've saved so much money on their wedding dress?
Email Wedding Dress Factory Outlet