Vinyl Concepts Offers Green Building Options for California Homeowner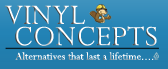 Vinyl Concept Provide Environmentally Friendly Options
An established California-based installer of vinyl building products, Vinyl Concepts is proud to offer a wide range of environmentally friendly services and materials to its clients. The company's vinyl products feature a variety of "green" advantages. Vinyl, which is immune to rot, requires no toxic chemical treatments; the material does not need painting or staining treatment; and vinyl's durability means less environmental damage associated with continued maintenance.
Vinyl Concepts offers a variety of vinyl fabrication and installation options to its clients. The company provides vinyl fencing, patio covers, gates, railings, and gazebos in a plethora of shapes and sizes, made with only the highest quality materials. Vinyl Concepts' installation services are available to both residential and commercial clients.
For further information about the services provided by Vinyl Concepts, please visit their website at
http://www.vinylfencingca.net
, which also features pages of useful facts and general information about vinyl products. Prospective clients are advised to call the nearest Vinyl Concepts location at 877-588-4695 (Torrance) or 877-528-4695 (Thousand Oaks). The company provides free in-home estimates.
About Vinyl Concepts
The professionals at Vinyl Concepts have decades of experience with fabricating and installing vinyl materials in residential and commercial settings. Based in Thousand Oaks, California, Vinyl Concepts also maintains divisions in Torrance and Santa Barbara. The company is a California State Licensed Contractor.