SOLID PATIO COVERS FROM VINYL CONCEPTS PROVIDE SUN PROTECTION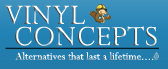 Vinyl Concepts offers a variety of solid patio covers to choose from. Many customers use their new solid covers as an outdoor room adding valuable space to their living area. With a beautiful solid patio covered room from Vinyl Concepts, homeowners can take advantage of great weather and use their backyard as an extended area of the home. The solid patio covers are waterproof and provide exceptional sun protection, keeping outdoor areas cool and dry.
Homeowners may also choose to outfit their solid patio covers with convenient accessories such as lighting, overhead fans, heaters, skylights, sound systems, mister systems, screens, draperies and covered porch-type soffit. Solid patio covers come in a variety of colors to compliment home design. Some manufacturers have introduced extrusions that simulate the look of wood by creating a variegated product. This is accomplished by having darker colored pellets in the compound that melt differently than the base material, creating a visually streaked, faux wood grain.
Vinyl solid patio covers also meet the challenges of today's "green" building specifications. "Green'" building refers to the growing importance of meeting sustainability requirements in construction materials and practices while at the same time limiting the impact on natural resources in both the construction and long-term maintenance and life cycle of a commercial or residential building. The lifecycle of vinyl building products is excellent, meaning fewer cycles of manufacturing, production, shipping, storage, installation, and refinishing, leading to a reduced carbon footprint.
Vinyl building products from Vinyl Concepts, including solid patio covers, fencing and gates are usually created by fabricating and assembling various profiles into a useable end product. Fabrication is a critical element in creating a fence that is strong, good looking, and long lasting. Fabrication includes advanced design, cutting, routing, drilling, reinforcing, and assembly of the finish product. The designs created for fabrication must be high quality and specifically address the expansion, contraction, and environmental variables experienced over many years in real-world use.
To review the selection of solid patio covers available from Vinyl Concepts, visit
www.patiocoversca.com
.
About Vinyl Concepts
Founded in 2005, Vinyl Concepts offers a wide selection of patio covers. At Vinyl Concepts, we take pride in serving you. Our ultimate goal is to ensure that our customers are satisfied and will refer us to their friends and family. Thank you for visiting us. We serve Santa Barbara, Ventura, Los Angeles, and Orange Counties from three facilities. From these facilities we manufacture all our products in-house.