Got Pink Eye? It's Important to Know the Difference Between Conjunctivitis Types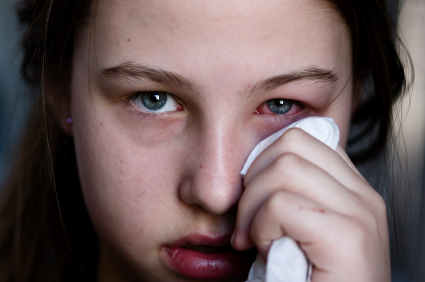 Red, watery and itchy eyes often indicate "pink eye," or conjunctivitis, a condition affecting kids and adults alike. Distinguishing the type of conjunctivitis isn't always easy, but proper treatment depends on it. What's more confusing is that these symptoms can also indicate a variety of eye issues other than conjunctivitis.
AllAboutVision.com's recently updated
Pink Eye
article provides an introduction to the three types of conjunctivitis and explains their different causes, symptoms and treatments, as well as how contagious they are.
Most of the time, doctors use the word "pink eye" to refer to viral conjunctivitis, which is caused by a virus like the common cold and is highly contagious. Whereas a virus can usually clear up without medical treatment, bacterial conjunctivitis can damage the eye if not treated with antibiotic
eye drops
or ointments. A third type, allergic conjunctivitis, is triggered by irritants and generally treated with allergy medicines.
Often it can be difficult to tell the type of conjunctivitis you have by symptoms alone, or if some other eye problems or underlying health conditions are causing your symptoms. Conditions associated with conjunctivitis include other
eye infections
, dry eyes and blepharitis. For these reasons, anytime you develop red, irritated eyes, you should call your optometrist or ophthalmologist immediately and schedule an
eye exam
.
Online since 2000, AllAboutVision.com is an independent resource providing consumers with hundreds of pages of trustworthy, up-to-date information on vision correction and eye health. The site is a National Gold Sponsor of Optometry Giving Sight and is certified by the Health on the Net Foundation.