Princess Tower claims the top spot on Bayut Search Trends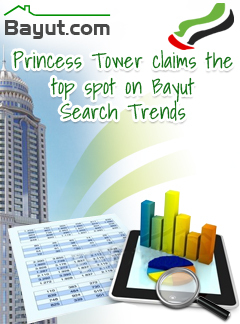 Dubai Marina is the unprecedented chart topper as far as Bayut Search Trends go but within Dubai Marina per se, the competition is always intense. Dubai Marina has the highest density of some of Dubai's best units and these units keep gaining and losing points on Bayut chart, reflecting the kind of cutthroat competition that prevails in Dubai's realty market. Dubai's high-end property, despite the worst economic meltdown, never really went out of demand and the kind of welcome that's been rolled out for high-end skyscrapers like
Princess Tower
is the prime example of their popularity.
Princess Tower occupied the 16th spot on Bayut Search Trends at the end of Q2. Between July and August, Princess Tower leapfrogged over fifteen other towers to claim the top spot with an increase of 83 PI points. The biggest jump for the tower came in July when it reached the second spot and pocketed 55 PI points. July also reflected a significant increase in the number of its unique visitors where more and more people looked it up on Bayut.com. By the end of August, the search volume for Princess Tower doubled as it hoisted itself up the ranks and claimed the top position with a hundred popularity index points.
Rankings for communities within Dubai remained consistent throughout July and August where the charts spelled out Dubai Marina's superiority over other communities as it maintained its top rank with 61,955 unique searches. Jumeirah Lake Towers, which has consistently been performing well throughout Q2, also maintained the second spot during both the months. Although it showed a downward trend in its PI points but its search volume increased on Bayut.com. In July it scored 48 PI points, which dropped to just 40 in August but interestingly enough, there was a spike in its search volume.
However, that was not the case for buying trends in Abu Dhabi. Overall, there has been a general downward trend in the search volume of Abu Dhabi ever since Q2 while Dubai properties gained more traffic on Bayut.com. Abu Dhabi has continued to lose PI points as well as its unique visitors which was 27,143 in July but dropped to 21,139 in August. An interesting change presented by the UAE charts in July was Sharjah's jump over Ajman and the gain of one point in its PI. Although it lost that one point in August but it maintained its ranks, depicting a healthy buying activity in the market.
The situation certainly seemed brighter for Abu Dhabi Rental Trends at the start of Q3 as it showed a steady climb. Abu Dhabi has been dealing with a longstanding problem of oversupply but despite the drop in its rents, it gained solid 16 PI points between June and August. In August, Abu Dhabi registered 42 PI points which was the highest number it has been able to achieve during the last four months. Ajman and Al Ain have been gaining and losing points throughout July and August where Al Ain finally managed to claim the fourth spot on Bayut Rental Trends in August.
Within Dubai, the top three positions remained unchanged where Dubai Marina, Jumeirah Lake Towers and Downtown Dubai occupied first, second and third position respectively. For Downtown Dubai, the biggest jump came in July when it leapfrogged over twelve other communities and climbed up the ranks to claim the third spot. It also maintained its rank throughout August. The most dynamic picture was painted by Dubai Marina rental trends where no one building was a clear winner. Silverene, for which the last few months were rough, bounced back to claim the first spot in August. The building was knocked off the top spot in March and in the last four months, it was the first time it reclaimed its position by inching up the ranks.
Interestingly enough, Princess Tower, which performed well on Buying Trends, has only just begun to snail its way up on the rental chart. In July, which was also about the time it was handed over after its completion, it registered its presence on the chart and climbed 44 ranks to claim fifth spot. A month later, its popularity index points burgeoned from 36 to 88. The high numbers posted by the world's tallest residential tower could just as well help it to take the top spot on Bayut Rental Trends as well in the coming few months.
About Bayut – As the prime UAE and
Dubai real estate
portal in the United Arab Emirates, Bayut is also the portal of choice for thousands of realtors, agencies, buyers, renters and sellers from all over the globe. Being the most dynamic portal, which is credited with revolutionizing the way buying and selling is done in the UAE, Bayut offers a range of services and products to its widespread clientele, assisting them in making better, smarter investment decisions.
For more information please contact: