Now or Never Travel Offers Member Benefits that Make Vacations Visits to Paradise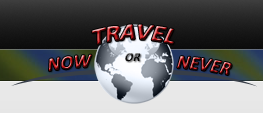 Customized Vacations, VIP Treatment and Affordable Pricing Brings New Invigorating Vacation Options Formerly Only Dreamed About
Westlake, OH - Now or Never Travel is offering its members the widest assortment of travel adventure destinations and options to ensure vacations that will recharge the batteries, and give couples and families experiences and memories they will cherish for a lifetime. In today's hectic lifestyle, vacations have become more important than ever, in replenishing the energy and vigor in one's mind and body, and in a couple's and family's relationships.
Now or Never Travel has designed vacations that will guarantee both rest and relaxation on the one hand, and hassle-free adventure on the other. More important, they have created the options and arrangements that permit members to design their vacation just the way they dreamed it could be.
They have combed the world's best, most luscious tropical resorts and vacation spots, and made exclusive arrangements to provide their members VIP treatment every step of the way: Express check-in to the best resort accommodations and no-wait reservations at the best restaurants; air, car and all transportation-they take care of all that.
With Now or Never Travel, vacations are no longer confined to land: their exclusive arrangements with luxury cruise lines allow you to spend glorious days at sea, where you'll discover the true meaning of pampering. Now or Never Travel Members' vacations are customized to your tastes and desires-all at preferred prices that would be impossible for any regular, unassisted traveler. Their concierge is at your service from the instant you join and is there for you every step of the way.
Now or Never Travel will make sure you experience great entertainment, if that's your pleasure, or great boutique shopping-or both. Their destinations are filled with unpretentious luxury and adventurous fun. For families planning a reunion, or people looking for interesting seminars at sea-Now or Never Travel covers both, and provides First Class service at the lowest prices. People thinking about a vacation can visit their website-
www.nowornevertravel.com
- or call their Travel Center at 1-888-627-4455-or e-mail them at
infor@nowornevertravel.com
-for a quote on the best prices available at the time of booking. Discover why their members agree, when it is said, "Paradise never felt so good."
About Now or Never Travel
Now or Never Travel is one of the largest Member Based travel agencies in the world. Their corporate offices are located in Westlake, Ohio, but their extraordinary vacation adventures extend to virtually every corner of the globe. Now or Never Travel has pioneered the customized adventure vacation, and offers preferred rates at all locations and facilities. Call Now or Never Travel directly (and toll free) at
1-888-627-4455
, or hit the "Contact Us" button on their website and send them a message. You'll be contacted within 24 hours.
Email Now or Never Travel