Hot Shot LTL Service Announces Time Critical Deliveries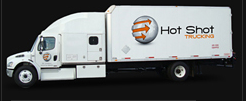 LTL deliveries for your urgent shipping needs throughout USA and Canada
Hot Shot Trucking, the top rated Truck Delivery Company that offers solutions for time-critical shipments, also offers Hot Shot LTL Delivery Service and Expedited Trucking Services. This service is not exclusive to less than truckload shipments but also applies to large equipments or machinery delivery as well as any palletized items.
Hot Shot LTL Service and Expedited Trucking is a unique service that answers the problem of immediate and time critical door-to-door delivery. Regardless of your shipment's size, Hot Shot Trucking will provide the best suitable equipment in order to meet your delivery timeline.
Hot Shot Trucking
has a fleet of cargo vans and different sizes of straight trucks equipped with the latest real-time tracking system to ensure on-time and accurate delivery times. Hot Shot LTL and Expedited Truck Delivery Services come with a two person white glove service with local and nationwide same day or overnight delivery. This service is available 365 days and also comes with a live 24/7 over the phone access and support team.
For more information on the Hot Shot LTL and Expedited Trucking Service, please visit Hot Shot Trucking's website at
www.hotshottrucking.com
. You can request a quote from their website or speak with a Hot Shot Trucking dispatcher by calling (281) 846-2020.
About Hot Shot Trucking
Dan Boaz is the man behind Hot Shot Trucking. He has been working in the transportation industry since 1985. Hot Shot Trucking is the answer to the Internet generation's transportation needs. The company offers reliable and professional delivery service. Hot Shot Trucking has a wide network that are strategically placed in major cities in the United States, making them a valuable resource for any size business.