NYC pre-foreclosures reach a 2-year peak in Q3 2012 while first-time foreclosures still fluctuate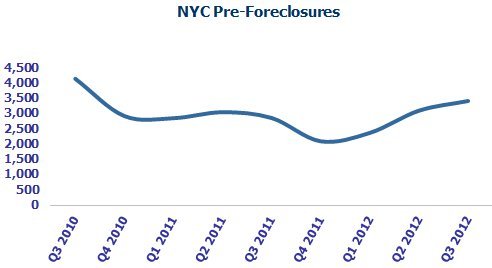 PropertyShark.com, a New York based property search and foreclosure listings website released its quarterly report covering first-time residential New York City foreclosures for Q3 2012.
Key Findings
"Although the number of first-time scheduled foreclosure auctions hasn't gone up, it doesn't mean that the tension is gone," said Andrew McElhone, the Industry Principal at PropertyShark. "The foreclosure moratorium as well as the mortgage settlement, signed in February, have been artificially keeping the number of auctions down."
For more details visit
http://www.propertyshark.com/Real-Estate-Reports/2012/10/08/nyc-foreclosures-pins-and-needles-pre-foreclosure-q3-2012/
About PropertyShark
A wholly-owned subsidiary of Yardi Systems Inc, PropertyShark.com offers the information essential to evaluate real estate and make informed decisions. PropertyShark.com, which was named one of TIME.com's "Top 50 Websites of 2009", provides real estate professionals, investors and home buyers with data and tools on all aspects of property, including building details, ownership information, recent sales prices,
property values
and comparable sales, sophisticated maps, for sale and for lease listings, foreclosures and pre-foreclosures, mailing lists, photos, and more.
Attachments