DUILawFirmMarketing.com Announces Sponsorship of the 2012 NACDL & NCDD Seminar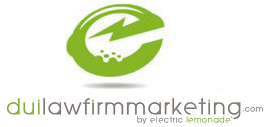 Savannah, GA. -October 10, 2012 - DUILawFirmMarketing.com-one of the top Internet marketing agencies for DUI/DWI law firms in the country-is proud to be the silver level sponsor for the National Association of Criminal Defense Lawyer (NACDL) and National College for DUI Defense's (NCDD) 16th Annual "DWI Means Defend with Ingenuity" Seminar held in Las Vegas on October 18-20, 2012. This intensive seminar features presentations by leaders in DUI/DWI law, as well as a number of interactive workshops designed to raise the bar for DUI/DWI defense education.
DUILawFirmMarketing.com is excited to count two of the main speakers at the seminar-William C. "Bubba" Head and Stephen L. Jones-as part of their clientele. For more than a decade, the agency has run both attorneys' Internet marketing campaigns, generating online traffic and increasing revenue in the process.
As a special incentive for participants, DUILawFirmMarketing.com will be giving away a free six-month DUI law firm marketing package at the event. In addition, they are bringing a bit of Southern charm to the event with pralines from Savannah, Georgia, where their headquarters is based.
Sponsoring the 2012 NACDL & NCDD Seminar gives DUILawFirmMarketing.com the unique opportunity to interact with DUI attorneys and learn more about their marketing needs. "Understanding the challenges and goals of DUI/DWI lawyers allows us to continue improving on our advertising strategies, which are custom tailored to this specific market" said Wayne Shifflett, founder of DUILawFirmMarketing.com,
Visit DUILawFirmMarketing.com's newly launched website, built with "responsive design." This new approach to web design provides an optimal viewing experience-such as easy reading and navigation with minimal resizing, scrolling, and panning-that can be seen across a wide range of devices (e.g., smart phones, tablets, or personal computers). Recommended by Google as the standard configuration for websites going forward, this web design can help DUI/DWI law firms reach a larger number of potential clients.
About DUILawFirmMarketing.com
DUILawFirmMarketing.com is one of the leading Internet marketing agencies for DUI/DWI law firms. For more than a decade, the experts at DUILawFirmMarketing.com have developed proven Internet marketing strategies to increase clients' revenue and return on investment. As a full-service marketing agency, they handle every aspect of their clients' online presence, including websites, video production, and social media campaigns.
Email DUILawFirmMarketing.com