WerkMaster Launches New Safety Conscious Stealth Propane Burnisher with Dust Collection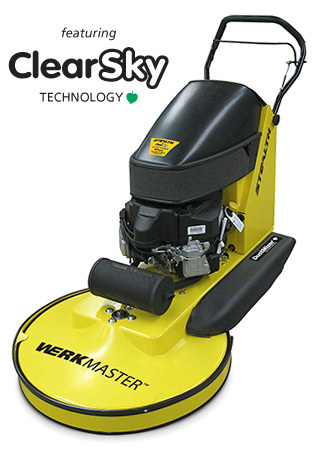 Today's Floor Care Professionals are demanding more features and benefits in their choice of Propane Burnisher. They want performance and safety while reducing overall maintenance costs and downtime as well as extending the life of their Propane Buffer. Concrete polishing professionals are now using propane burnishers in their polished concrete process placing more importance on dust control, safety and durability. The
Stealth
delivers on all counts.
The WerkMaster Stealth with
ClearSKY Accu-Sense™ Emissions Monitoring System
offers the only technology in the floor care and
polished concrete
industry that automatically shuts off the propane engine before emissions reach dangerous levels. WerkMaster's Accu-Sense™ technology will not only shut down the engine, but it will accurately tell you why it shuts down.
The Stealth will shut down:
If the machine air intake is restricted by a dirty filter.
If the air-to-fuel ratio is improperly set.
If the machine is running unattended.
If the operator attempts to run cold.
"WerkMaster puts operator health and safety ahead of performance, function and features. Nearly all competitors'
propane burnishers
have the ability to add closed loop technology to their systems but most don't. They are concerned more about price. We made sure that ALL WerkMaster propane powered equipment has built in safety features as a Standard, not an option, states Brian Wilson, President of WerkMaster."
WerkMaster
DustMizer™
is a centrifugal dust collection system that traps minute particles of debris generated during ultra high speed burnishing operations, delivering superior results in maintaining dust control in customer's sensitive environments.
The innovative DustMizer™ dust collection system, with precision-engineered skirt and deck designs, utilizes the high speed rotation of the pad to direct dust into an easily accessible bag.
Stealth
propane buffers ergonomic design provides users with a quiet machine reducing fatigue and limiting exposure to mechanical features of the motor.
WerkMaster burnishers and buffers are favoured by
Facility Services
and
Facility Maintenance Providers
, Janitorial Service Providers,
Decorative Concrete Polishing
Contractors, Marble, Granite, Stone and VCT Restoration and Cleaning Contractors.
They are used by floor care professionals throughout the world who are contracted to work on floors in retail stores, airports, malls, convention centres, grocery stores, educational facilities, hospitals, office buildings, warehouses and large distribution centres.
Clear Sky buffers and burnishers are available in 21" and 28" models.
About WerkMaster™
WerkMaster™ is proud to be one of the most innovative and effective manufacturers of award winning countertop and floor refinishing and restoration equipment. Our technology is specifically designed for polishing concrete, surface preparation as well as stone, terrazzo and hardwood floor refinishing. WerkMaster's floor finishing equipment and
countertop
tools are really 7 Machines in 1: Edger, Polisher, Grinder, Buffer, Burnisher, Sander and Stripper that edge to within 1/8" or 3mm of the wall.
"We are constantly looking for ways to improve our technology" stated Wilson, "moving forward in the industry with a goal of providing the best possible solutions for our customers."
For more information please phone Toll Free 1-866-373-9375 or visit our website at
www.werkmaster.com