Planning for the Upcoming Holiday Party Season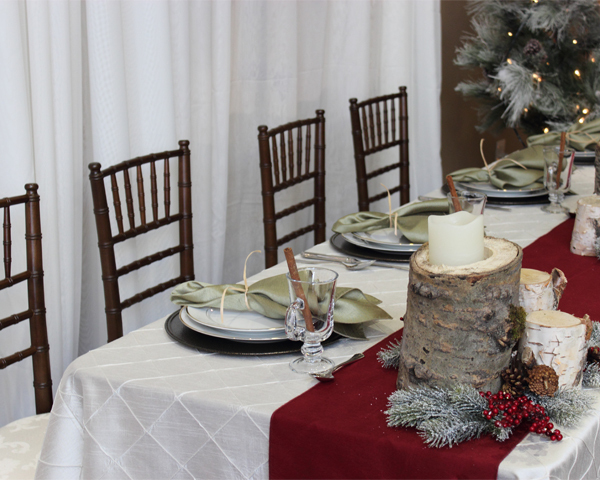 Edmonton, AB, October 15, 2012 - Fall is officially here and now is the time to start event planning for the holiday season! Whether it is for a family holiday dinner or a company's holiday event, it is time to put pen to paper and start planning!
A great place to start the holiday planning process is by choosing a theme for the event. Love the how the world looks under a blanket of freshly fallen snow? If so a winter wonderland theme might be perfect. Another great theme that will bring out any guests inner child is a mystical toy land theme, a perfect one if there will be lots of children in attendance. If neither of those options sound appealing, how about creating an event with either a modern or classic holiday décor or a rustic woodland theme.
Once you have decided on a theme for the event the next step should be making a realistic budget for creating the event. After having set a budget comes the time to begin picking out the event decor such as linen, centerpieces, dinnerware and lighting in order to bring any holiday vision to life!
Special Event Rentals
has a large selection of holiday décor to help make every holiday affair one to remember.
If planning a corporate holiday event, a schedule should be made for the evening to ensure the event runs smoothly and on time. Schedules are a great idea if activities will be part of the night's events.
"The holidays are one of the most joyful times of the year, but can be one of the most stressful times as well. We at Special Event Rentals are happy to do all we can to ease our customers nerves and help make their holiday plans come together nicely" – Lars Erickson, Director of Business Development at Special Event Rentals.
Planning and creating a wonderful holiday event can be a time consuming and a daunting task for some. Our experienced
event planners
can save anyone precious time and remove the stress by planning and executing the entire holiday event! To set up an appointment with one of our planners please contact 780-435-4433.
About Special Event Rentals:
Specializing in event, wedding, tent rentals, and more, Special Event Rentals is Edmonton's premiere event and wedding rental company. Spending over a million dollars annually on new rental equipment to meet customer and client needs, Special Event Rentals has become western Canada's largest event and party rental company. With portable bars and bar equipment, catering equipment, linens, tent rentals, table rentals and chair rentals, wedding chair covers and wedding décor, dance floors, and more Special Event Rentals carries everything needed to complete the perfect fall wedding, and 25 years of knowledge to make sure it is a success!
For more information, please contact:
Email Special Event Rentals